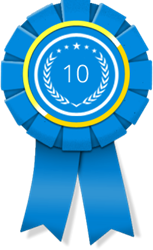 Big Drop Inc. is the best website development company.
NYC, New York (PRWEB) September 15, 2014
In the web design industry, there are a large number of low quality companies providing cut-rate web services. 10 Best Design (10BD) was originally created when its founders recognized a major divide between the capabilities of modern web development and the websites that even the largest agencies were producing. Today, this platform is dedicated to bridging this chasm by guiding web searchers to top providers in the field of web design.
This month, NYC's Big Drop Inc. is the best website development company. Recognized for its professional approach and unique designs, Big Drop stands apart from its competition.
Landing in the second and third positions, respectively, are Blue Fountain Media and Maxburst, two of America's powerhouses in terms of clientele and quantity of finished projects. Blue Fountain Media was recognized for its ability to fulfill project requirements – a common attribute among the ranked firms' offerings. Maxburst was noted as being one of the top web development companies with its outstanding web marketing and design team.
Number-one ranked Big Drop Inc., located in the heart of Manhattan, boasts a name that "lives up to what it does," according to 10 Best Design representatives. As a web design firm that 'drops everything' into its customers' sites so that they get the best results possible, Big Drop provides a personal touch to each web design. Similarly, Blue Fountain Media (Ranked #2) believes in using functional design to reflects every portion of its client's business. This allows the Blue Fountain team to come up with a highest-quality website tailored specifically to the needs of each unique client.
Maxburst, meanwhile, hailing from Long Island, New York, offers a roster of different services which fall into three distinct areas: Web development, marketing and web design. 10 Best Design recognized Maxburst for the quality of services which its staff provides.
10BD's Top Website Design Companies list for September 2014 is as follows:
1. Big Drop (New York City, New York)
2. Blue Fountain Media (New York City, New York)
3. Maxburst (Long Island, New York)
4. Old City Press (Washington, DC)
5. Forix Web Design (Portland, Oregon)
6. Dotcomweavers (Paramus, New Jersey)
7. The Creative Momentum (Atlanta, Georgia)
8. Kohactive (Chicago, Illinois)
9. Cadre (Atlanta, Georgia)
10. Huemor Designs (Long Island, New York)