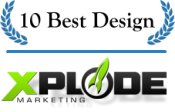 Sarasota, Florida (PRWEB) February 05, 2014
From what began as a design-based crusade championing the art of web development, 10 Best Design has blossomed into one of the internet's premier awards for web design firms. In fact, the 10BD team originally came together when they first noticed that the web design services and websites being produced often did not live up to the amazing potentials of things like HTML5 & Web2.0. In an effort to further reduce the disparity between the end products being built and their potential with modern techniques, they have begun adding new firms to their directory on a monthly basis, providing awards to those who have shown superior talents.
This month, Xplode Marketing has been awarded within this category as the #2 new firm in Best Design. Xplode has found its way onto the 10 Best Design website through amazing website builds and attention to client needs.
They gain a deep understanding of each customer's products and services, but more importantly, they take the time do research their goals. Through this style of work, they are able to collaboratively construct the best design tailored to the client business.
In fact, Xplode themselves offer a wide variety of services to accommodate requests of all sorts. This company will not only build a website, but they can optimize it for search engines, promote it in a snappy video, and make it universally attainable through mobile development.
Xplode works with companies of all sizes, coming for virtually all industries. Their staff has created a digital presence for everything from schools to non-profits to law firms.
Xplode is located in Sarasota, Florida and is sure to provide amazing services to any company in need.