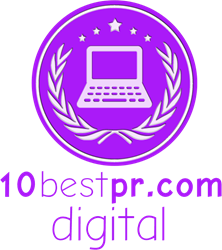 San Francisco, CA (PRWEB) December 22, 2014
Every year, 10 Best PR gives awards to companies that provide their clients with excellent public relations (PR) service. Digital PR has beome a marketing staple, and the following are three of 10 Best PR's top ten digital PR firms of the year 2014.
Miller PR, based in Los Angeles, California, ranks number three on the list of contenders for best digital PR company. They manage many talented directors and actors, guiding them in public relations as they try to manage their reputations in the entertainment industry. The public relations firm is able to link clients with important organizations within the entertainment world and release promotional multimedia, including videos, that affect the public opinion of these celebrities.
Coming in at number two for the best digital PR firm is Ironpaper, located in New York City. The public relations company gives clients the power and ability to nurture and maintain good relationships with the public. The skilled and experienced PR professionals of Ironpaper design and put into action an effective and brilliant PR plan that helps clients stand out among their surroundings. Ironpaper recognizes the importance of branding in the process of digital marketing, and the graphic design experts use their knowledge to create an effective online campaign.
Ranking number one as the best digital PR firm is Ogilvy Public Relations, located in New York City. The PR company has developed a strong reputation as an international public relations firm. Ogilvy Public Relations works with a variety of different clients with diverse backgrounds, including technology, financial, healthcare, and entertainment backgrounds. Many of the PR company's clients are venture capitalists and corporations who benefit a great deal from the brand marketing services offered. In addition, there is the Social@Oglivy service, which promotes company clients on social networks.