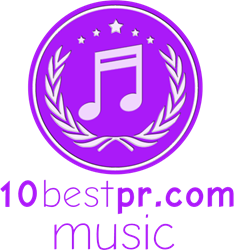 San Francisco, CA (PRWEB) December 23, 2014
Each year, 10 Best PR gives rankings to the top public relations (PR) companies. There are many categories that 10 Best PR awards, including best music PR firm. The following is information on three of 10 Best PR's top ten music PR firms for the year 2014.
Located in Brooklyn, New York, Cyber is number three on the list. Cyber is a PR firm that focuses on the promotion of musical artists. The public relations company submits samples to outlets that have established fan bases, such as radio stations, so that their clients can get the exposure they need in order to become successful. They also use social media networks and YouTube. The PR firm additionally writes biographies of musicians and groups that appear in the media, including in press releases.
Ranking at number two for the best music PR firm is Spritz SF, based in San Francisco, California. This public relations company emphasizes buzz creation to boost the careers of up and coming artists in the music industry. They commonly use social media networks to send out audio and video samples to promote their clients. Additionally, they write editorials and biographies about their artists who are in the early stages of their careers and looking for publicity. Spritz SF is linked professionally to many record producers, executives, and other music industry professionals that can do a great deal of good for their clients.
The best music public relations business, ranking number one on 10 Best PR's list for 2014, is AMP3, based in New York City. This independent digital public relations agency takes pride in putting together custom marketing plans for its clients, who are generally entertainers and music artists. They offer their clients pitch and press kit development to appeal to industry professionals. The PR firm often plays a part in the endorsement of young lesser known artists by famous musicians. AMP3 also implements public relations by using social media and weekly blogs to promote their rising stars, and they manage events that are often used to promote clients.