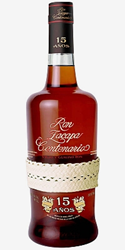 San Francisco, California (PRWEB) February 20, 2014
10 Best Rum carried out a recent ranking and named Ron Zacapa as their #1 of the best rum brands. The rum scored highly across all categories - design, fragrance, flavor, feel, and finish. It scored 96 points total which edged it out over the 2nd place brand, Motu Rum, by a single point. Most notably, the rum scored a 96 out of 100 in flavor which gave it an advantage over the other best rums. Its other categories were also notable, which each one scoring within the mid-90 percentage range.
Ron Zacapa is noted for its distinct aged taste infused with several different flavors. The rum's life begins in a plantation in Guatemala where the sugar cane is grown. The fermentation process uses a unique form of yeast, Saccharomyces cerevisiae, that comes from pineapples to give it an extra citrus flavor. Slow fermentation and distillation is used to give the rum a carefully infused flavor. It is aged at 7544 feet above sea level in the Guatemalan highlands at one of the oldest aging facilities in the world. The cool mountain air helps to slow the aging process and intensify the flavors. The rum comes in two distinct types: Zacapa 23, which ranges from 6 to 23 years old, and Zacapa XO, which ranges from 6 to 25 years old.
The exhaustive process by which the rum is created can be attributed to its high scores and its being declared the best of all rums. Its rich flavor tops off a slew of positive attributes to note about the rum including the elegant design, the fragrance, the feel, and the finish. Using an algorithmic program to analyze the opinions and scores of several top critics, Ron Zacapa was determined as the #1 rum out of a category of several of the Best Rum Brands.