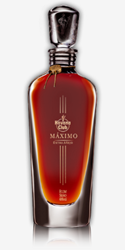 San Francisco, California (PRWEB) February 25, 2014
Havana Club's Máximo Extra Añejo Rum came in as the third best rum brand on Alcohol Aficionado's 10 Best Rum. This 80 proof, Cuban-made rum has received plenty of critical praise since its debut. It seems to have earned that praise, beating out several world-famous brands including Cruzan Single Barrel Rum, Santa Teresa Selecto, and Vizcaya Rum. Máximo Extra Añejo currently retails at approximately £1,000 ($1665 USD).
Marketed as an "ultra-premium extra-aged rum," Maximo Rum is a blended rum made from the combination of several different ages of Havana Club branded rums which are then combined with fresh sugar cane distillate and further barrel-aged in old oak casks in order to create its unique flavor. Like Havana Club's other aged rums, which go up to 15 years in age, Máximo Extra Añejo is a very dark rum and, according to Havana Club's website, presents aromas including "balanced notes of oak, smokiness, and subtle tones of fresh pear, coconut and dried fruit." and flavors of "dark chocolate, luscious dried fruits and a hint of vanilla." Maximo rum was devised by Havana Club's chief rum maker, Don José Navarro.
Máximo Extra Añejo scored at 92 percent or higher in all five categories in the competition, clearly indicating that the judges saw this rum as an exceptionally well-rounded product as well as deserving a place among the world's best rums. The categories and Maximo Rum's score therein were: Design (93 percent), Fragrance (92 percent), Flavor (96 percent), Feel (97 percent), and Finish (92 percent).
Unfortunately for American rum enthusiasts, Havana Club is based in Santa Cruz del Norte, Cuba, so the company's rums are unavailable in the United States of America due to the ongoing embargo against Cuba. Otherwise, Havana Club rums are available globally through the French distiller and distribution company Pernod Ricard.