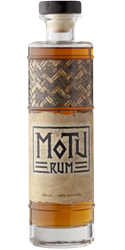 San Francisco, California (PRWEB) February 24, 2014
Alcohol Aficionado created 10 Best Rum as its rum-oriented platform for industry specific information and news. Through this platform, the organization has launched its new ranking of the best rum brands.
Motu Rum has placed 2nd in the awards for the 10 Best Rum Brands according to the 10 Best Rum team. The competition included some of the most famous and best loved rum brands on the market, and the awards were given based on expert consultation and an advanced scoring algorithm. Each of the best rums earned their place on the list.
Motu Rum came in second place against the world-renowned Ron Zacapa, beaten by only a single point! It beat out other competitors such as Maximo Extra Anejo Rum and Vizcaya Rum. The final score for Motu totaled 95 points. The flavor and feel of the rum each earned a 97% on individual markings, while fragrance, finish, and design scored very respectably as well.
The philosophy of Motu Rum is as interesting as the rum itself. The brand favors very natural processes and pays plenty of respect to its tropical roots. In fact, the name "Motu" means "island" in Polynesian. And the company is still active in social projects to help preserve Tonga.
Motu has been served to royalty from England, Thailand, and Tonga. It is widely popular in Hong Kong and China, but is recently becoming easier to obtain in America.
Motu is a dark rum that is distilled with only the finest quality sugar cane. The original sugar cane was originally farmed from the late Tongan king's Royal Estate. The tradition for quality was carried forth to this day, and ensures the continual production of high quality rum.
When it comes to the best rum brands, Motu is now considered one of the best. It can be enjoyed straight, or in a nice tropical cocktail. Motu has a smooth, sweet taste, with a bit of tartness that settles well on the palate. The wonderful taste, along with the fashionable and elegant design are a guarantee of the highest quality of rum.