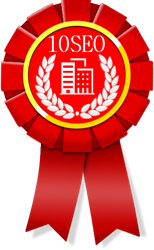 San Francisco, California (PRWEB) May 02, 2014
10 Best SEO is gaining in popularity, thanks to its successful launch just a few months back. The site has been enjoying a boost in traffic since it began its roots as the sister company to 10 Best Design, which is one of the biggest awards organizations recognizing online web design and development entities for their efforts. 10 Best SEO will now start releasing category-specific awards in enterprise SEO in addition to local SEO, social media marketing, reputation management and pay per click. These best enterprise SEO firms awards represent the latest venture into the increasingly popular web awards recognition industry.
You're probably familiar with SEO; however, you may not be as familiar with corporate SEO. This type of search engine optimization is intended for businesses on a large, national or international basis that strives to drive traffic to websites in the form of interest, sales or leads from customers. Their customers may come from local areas or clear across the globe. A strong enterprise SEO presence can attract and retain these clients to get as much reach and influence as possible.
As the sister website to 10 Best Design, 10 Best SEO strives to also achieve recognition as a leading worldwide ranking and reviews platform. Its team found it was time to unveil plans for this site to recognize a whole new level of excellence devoted solely to search engine optimization. 10 Best boasts 1/4 million searchers each year who place the top enterprise SEO companies based on statistics entered into a state-of-the-art computer system that sorts and ranks success. The top enterprise search engine optimization firms are then announced and recognized for their diligent work in this field.
Search engine optimization (SEO) involves the increasing of a website's visibility by ranking high on search engine results. The higher a web page ranks, the better chance of visitors seeing it. 10 Best SEO hopes to make this latest foray into the SEO recognition industry as helpful to service seekers as its existing project with 10 Best Design.