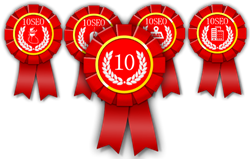 San Francisco, California (PRWEB) February 20, 2014
10 Best Design, the popular predecessor of newly launched 10 Best SEO, began a number of years ago with a group of like-minded web design industry professionals who were working to guide people to amazing web design firms which are able to provide modern styles for website and online applications. Their notoriety and brand recognition has spread greatly since then, catapulting the website to over a quarter of a million hits per year. High demand for this growing website lead its founders to proliferate their platform by expanding into the field of online marketing with 10 Best SEO.
10 Best SEO began with a bang. With thousands of Twitter followers and Facebook fans, 10 Best SEO has been able to grow at a highly accelerated rate due to its close ties to the web design ranking platform. In the midst of their expansion, the organization has now released the winners of their first ever Best SEO Agencies awards.
The inaugural ranking includes the top 20 search engine optimization firms from around America. They have been selected by the 10 Best SEO staff from their directory of online marketing companies, after being processed through the company's 10 Best SEO Analytic Review. The review process inputs a number of qualitative and quantitative variables, and it results in a number of suggested winners.
The #1 Best SEO Agency ended up being 352 Media Group. When it comes to search engine optimization, 352 Media Group applies a variety of solutions to ensure maximum results are achieved for every task. With a team of inspired individuals, clients can look forward to an empowered relationship that leads toward a celebration of exceptional SEO payoffs. 352 specializes in user experience design and insights, agile web development, digital marketing and strategy, and mobile services that can be combined or tackled in bits at a time.
352 Media was founded over 10 years ago and now has offices in Atlanta, Georgia, as well as Tampa and Newberry, Florida.
Coming in second place, Yodle is based in New York, New York. After working with more than 40,000 clients across 9 years of service, this team knows how to expand web traffic, generate leads, and convert sales. Yodle has been mentioned by name on a number of notable publications such as Forbes.
The list of the 10 Best SEO Agencies is as follows:
1) 352 Media Group (Florida)
2) Yodle (New York)
3) Absolute Web Services (Florida)
4) The Ocean Agency (Illinois)
5) Falling Media (Arizona)
6) Phoenix SEO Company (Arizona)
7) Search Engine Surgeon (Florida)
8) 3Wiredesigns (Arkansas)
9) Tuuli Media (Florida)
10) Matomy (New York)
For more information about the top search engine optimizations or about 10 Best SEO, visit http://www.10bestseo.com/agencies.