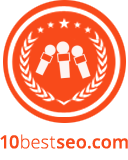 San Francisco, California (PRWEB) August 15, 2014
10 Best SEO's new unified awards for both search engine optimization and online public relations rank firms with the purpose of identifying the top SEO PR companies that specialize in both concepts. Search engine optimization refers to the process of improving a website ranking on the search engines. PR involves a series of activities aimed at improving the image of a business or an individual.
In order to create the list of the best SEO PR firms, 10 Best SEO has ranked different providers on several quantitative and qualitative factors. Businesses looking to strategically partner with reliable SEO PR firms will find this report immensely useful.
Digital Current, based in Mesa, Arizona, tops the list of the best SEO PR agencies. The digital marketing agency enables businesses to excel in the online world by combining SEO and PR services to deliver an effective marketing strategy that is tailored to the needs of its clients.
Customer Magnetism, based in Virginia, falls in second place. The SEO PR firm understands the need for businesses to stay on top of the search engine results. It also incorporates PR activities to promote a positive image of its clients and effectively manage negative comments and feedback about its clients.
WebpageFX secures the third spot in the list of top SEO PR agencies of 2014. WebpageFX employs a mix of search engine optimization and public relations to devise marketing strategies that are tailored both to search engines as well as real life customers.
Businesses will find the list of top SEO PR agencies immensely useful. With the rapid growth in the number of digital marketing agencies, it can be very difficult for companies to find a reliable service provider that is truly capable of setting them apart from competition. This list seeks to inform companies about service providers who are worthy of their business.