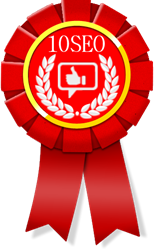 10 Best SEO (PRWEB) May 06, 2014
Acknowledging the country's best social media marketing Agencies, 10 Best SEO awarded the top ten companies in the field for 2014.
A product of the information age, social networking has proven just as useful in linking businesses and clients as it's effective in connecting friends and family members. To bring more attention to the hard work put into this new form of marketing, 10 Best SEO has highlighted the Best Social Media Marketing Agencies (SMM) with its award presentations.
Customer Magnetism, of Virginia Beach, Va., beat out the other nine companies listed in 10 Best SEO's Top SMM Firms category. The sheer breadth of marketing services and the firm's ability to scale each of its services to its clients needs enabled Customer Magnetism to take top honors, according to 10 Best SEO.
"From SEO to marketing, from infographics to websites, Customer Magnetism is the place to turn for achieving success in the marketplace -- and they offer assistance to any size business, from small companies to Fortune 500s," stated 10 Best SEO.
Boostability, of Lehi, Utah ranked in second, while Meltwater, of San Francicso, Calif. was honored with third place on 10 Best SEO's list of the country's best SMM companies.
Boostability was praised for its local SEO services, Search Engine Optimization, while Meltwater was lauded for its ability to integrate SMM into web designs for their clients.
"Great SMM companies tailor campaigns to each company's goals and fans," stated 10 Best SEO. "Though many claim to the Top Social Media Marketing Agency, 10 Best SEO has compiled a list of firms from which you can begin to make your own decision about one who can work well with your company."
The seven other companies completing 10 Best SEO's list of top SMM firms included Super Media, of Dallas, Texas; Bruce Clay, of Moorpark, Calif.; Edelman, of Chicago, Ill.; Ironpaper, of NYC; Fahrenheit Marketing, of Austin, Texas; WebpageFX, of Philadelphia, Penn.; and Linkable Media, of NYC.