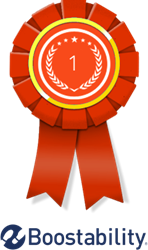 Lehi, Utah (PRWEB) August 27, 2014
The top SEO agencies are presented on 10 Best SEO along with those firms that got special mentions. 10 Best SEO determines the best SEO companies by collecting data and analyzing it against criteria that measures both the qualitative and quantitative performance of the companies. Its Analytic Review Algorithm ranks companies on client research, online research, reviews, previous accolades, traffic, SEO rankings and proprietary analytics among many other things.
The people behind 10 Best SEO have years of experience in multiple marketing fields including PPC, social media marketing, web reputation and SEO. They judge the performance of other companies to see how well they position their clients to match search engine queries relevant to their businesses. This is known as search engine optimization or SEO, and it is a powerful marketing tactic as well as an extremely competitive one.
Boostability took the number one spot after being recognized for its link building and ability to capture target markets on social media platforms. Both of these activities are crucial to ranking well with search engines and earned the company first place among top SEO agencies.
Currently managing thousands of clients, the winning firm has a management team with over 40 years of internet marketing experience among its members. The core services of the company are helping small and local businesses gain online search visibility at cost effective rates. This includes SEO for small business websites, local search optimization and SEO solutions for media, newspaper and phone book partners in need of an SEO service for their clients.
Started in January 2009, the company pursued the goal of serving the small business market with affordable and effective SEO services.
The August 2014 award for best search engine optimization firm indicates that the methods and technology of the company are succeeding for its clients. The company operates from Lehi, Utah and can be reached for comment at its website or by calling 800-261-1537.