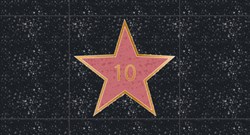 Hollywood, CA (PRWEB) November 06, 2013
The stories media often tout regarding celebrities usually involve lavish lifestyles and eccentric behaviors, however like the rest of the world, the rich and famous also must sleep. While many celebs burn the candle at both ends trying to keep up with tours, busy schedule and fun, others fully recognize the important role sleep plays in physical and mental health.
Mattress Journal's latest article looks at ten stars who take sleep seriously to offer motivation and inspiration, and also offers a few useful tips for getting better-quality rest. Titled "10 Celebrities Who Love to Sleep", the article lists quotes and sleep habits from popular actors, singers, and models. Quotes are drawn from magazine interviews and articles, including People, W, and Harper's Bazaar.
Many celebrities lauded for their good looks and business acumen tout sleep as an important part of their routine. Jennifer Lopez, Gwyneth Paltrow, Lauren Conrad and Cameron Diaz all have expressed that getting a good night's rest, usually between seven to nine hours, is of utmost importance for their well being, and say that they notice the consequences when they skimp on shut eye.
Other stars take a more extreme approach to sleep, going above and beyond the minimum recommendations. Heidi Klum and Amanda Seyfried have both mentioned getting 10 hours of beauty sleep a night, while actor John Hamm aims for 12, but in four-hour increments.
Following the write-up on celeb lifestyles, Mattress Journal then offers a few key habits everyone can adopt for more or better sleep based on a survey of recent studies. One University of Surrey study highlights the importance of allotting oneself plenty of time for rest since it can take time to fall asleep and since sleep deprivation causes extensive health side effects. Mattress Journal also suggests getting out of bed and reading until tired when feeling restless.
Other tips highlighted include focusing on personal sleep needs, based on a Duke University study showing women need need more sleep than men for optimal functioning. Benefits of exercise and good nutrition, as well as ideal bed-time snack suggestions are also included. The final tip involves creating an ideal bedroom, with cozy bedding, sleep-friendly atmosphere and a supportive, comfortable mattress. The website also offers numerous articles on mattress shopping, bed types, and mattress brand comparisons.
MattressJournal.com offers the latest bed news and mattress reviews to help shoppers research purchases and get the best sleep possible. Through careful, independent analysis of mattress types, brands, and sleep research, the blog offers expert opinions in readable, relatable format. With a focus on making the buying process simpler, Mattress Journal proves a valuable resource for consumers.