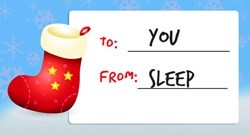 North Pole, Alaska (PRWEB) December 18, 2013
Finding perfect gifts for friends and family during the holidays can be challenge. Usually, people want to offer presents that the recipients will find useful, but also enjoyable as well. However, many people these days already have the latest gadgets and gizmos so picking out something unique can be hard. For those pressed to find gifts for people on their lists, SleepJunkie.org has identified a few useful gift ideas that apply to something everyone does - sleep!
In the guide, titled "Give the Gift of Better Sleep This Holiday", Sleep Junkie highlights 10 types of gifts that can help your friends and family sleep better, which can contribute to a happier, healthier life year-round. The ideas cover a range of different categories and price points, and are suitable for all types of people from young to old.
For each idea, the blog explains who the item would be best suited for, why it is a good gift for encouraging better rest, and lists a few of the more popular or well-rated products in the category along with pricing and helpful suggestions.
The ten gift categories for better rest curated by Sleep Junkie include gentle sunrise alarms for peaceful mornings, heavy-duty alarm clocks for strong sleepers, neat sleep masks and sound machines for blocking light and sound, sleep-tracking wristbands that monitor activity, innovative temperature control products for personalized comfort, pajamas from trendy stores, premium sheets and cozy throws, travel sleep aids, and a new mattress, the ultimate better sleep gift, with links to guides on memory foam mattresses, latex and more.
Sleep Junkie's guide offers several interesting but practical gift ideas, helpful for last-minute shoppers who need ideas. From picky teens to the grandma with everything, the gift of better sleep is something every person can appreciate and find useful. The blog also offers several articles on the subject of healthy sleep and on mattress shopping for interested readers.
SleepJunkie.org is a blog dedicated to all things sleep, from mattresses, bedding, to research and more. With a focus on making mattress research easier, the website offers independent assessments and reviews of the latest brands and technologies. Readers also enjoy timely updates on mattress-related news and expert help in selecting the best mattress to fit their needs and lifestyle.