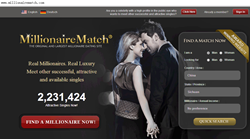 Los Angeles, California (PRWEB) January 15, 2015
MillionaireMatch.com has recently come up with a comprehensive set of dating tips that can make a serious difference when it comes to dating a millionaire. This online platform is dedicated to assisting successful singles around the world with all their dating and marriage related requirements. As a testimony to their efficient service, MillionaireMatch.com has been hightlighted on Forbes.com.
According to the dating experts from MillionaireMatch.com, the ten most important things to keep in mind while dating a millionaire are as mentioned below.

Dating a millionaire for the sake of money will never work. Therefore, it is important that the person is genuinely attracted to his/her partner through their initial communications.
Before deciding to date a millionaire, one must know how to say the right words at the right time, know how to act in social settings and most importantly know how to dress appropriately.
Millionaires want to have a smart partner that they can count on for advice in times of need. They want a partner whom they can depend on and trust in giving them support especially when they need to make important decisions. This is why it makes sense to engage in an intellectual conversation with a millionaire date.
It also helps to start getting interested in current events before starting to date a millionaire. Staying updated with current events is one of the key factors to build a successful relationship with a millionaire.
Millionaires are often into collecting the works of famous and great artists. Therefore, those interested in dating a millionaire can benefit by getting more knowledgeable about the famous artists and their work.
Knowledge on gourmet food or excellent places to dine can also receive appreciation from a millionaire. This is why it helps to learn about the most interesting cuisines from different parts of the world.
Having knowledge on quality wines and liquor is a plus. One can be a good catch for his/her millionaire date if he/she is pretty knowledgeable on food and wine.
Millionaires travel a lot for both business and pleasure. Having sufficient knowledge on places most frequently traveled will surely impress them.
One may have great looks and excellent knowledge on things that catches a millionaire's interest. However, if the person is not sincerely interested, they will be caught easily. Therefore, it is important to be truly interested on the date.
Financial issues must not be brought up. That will create an impression that the person is more interested in what his/her date has to offer rather than knowing the person or knowing if they are compatible with each other.
To find out more useful tips for millionaire dating and luxury lifestyle, please visit Millionaire Dating Tips and Luxury Guide.