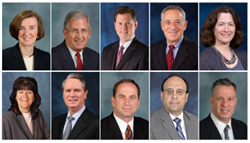 [Wilentz] is a good firm with a very good reputation in New Jersey.
Woodbridge, NJ (PRWEB) June 25, 2014
Wilentz, Goldman & Spitzer, P.A. (Wilentz) is pleased to announce that ten firm shareholders have been recognized by Chambers USA as leaders in their field. Anne S. Babineau, Stephen E. Barcan, Jeffrey Cappola, David S. Gordon, Brett R. Harris, Donna M. Jennings, Brian J. Molloy, Michael F. Schaff, David H. Stein and Steven J. Tripp have been recognized in the 2014 Chambers USA Guide as leading attorneys in their field in New Jersey.
Chambers USA is one of the most prestigious peer review publication in the country. Employing 150 full-time editors and researchers, Chambers conducts interviews of clients as well as attorneys and review detailed information regarding the nature of matters undertaken, to produce the annual Chambers Guide for clients seeking business lawyers. Based on that independent review, they assess technical legal ability, client service, commercial astuteness, diligence, commitment, professional conduct, and other qualities most valued by the client.
Anne S. Babineau, ranked by Chambers USA since 2011 under "Real Estate", leads the firm's statewide, multi-disciplinary Redevelopment Practice, counseling clients on redevelopment plans, designation of redevelopment areas, property acquisition, and government approvals. Peers agree that Ms. Babineau is "the best redevelopment attorney bar none; she is first-rate, super-professional and the best in the state for this work."
Stephen E. Barcan, ranked by Chambers USA since 2006 under "Real Estate", is recognized for his vast experience in land use law. He routinely assists in obtaining development approvals and in performing development-related due diligence investigations. Sources note that "in addition to his legal skills, he is a practical facilitator in terms of working with everyone to find collaborative solutions."
Jeffrey Cappola, ranked by Chambers USA since 2013 under "Environment", focuses on compliance with environmental laws for corporations, real estate development and landfill/brownfield redevelopment. His responsiveness and dedicated approach to client service garners him particular praise from clients. Sources says Mr. Cappola is "excellent."
David S. Gordon, ranked by Chambers USA since 2004 under "Real Estate", focuses his practice on the representation of property owners, developers and users in all aspects of commercial real estate, including acquisition, disposition, development, financing and leasing of commercial property. Clients note that he "has tremendous experience in leasing; he really knows his stuff."
Brett R. Harris, ranked by Chambers USA since 2012 under "Corporate/M&A", is a transactional attorney representing businesses and nonprofits who also has a particular focus of her practice dedicated to technology matters. A client commented that "she always has the right amount of information. I almost consider her my in-house counsel."
Donna M. Jennings, ranked by Chambers USA in 2014 under "Real Estate", a member of the Land Use Team, represents clients in industrial, commercial and residential projects throughout the state as well as related litigation. Sources commend her as being "very smart, very dynamic and a very high-energy person who is always on top of her game."
Brian J. Molloy, ranked by Chambers USA since 2011 under "Litigation: General Commercial", is the firm's managing partner, whose broad-ranging litigation experience includes complex business litigation and legal malpractice defense cases. According to interviewees, Mr. Molloy, is a "very bright, commercial attorney who is well prepared and courteous both to the court and to the opposition."
Michael F. Schaff, ranked by Chambers USA since 2008 under "Healthcare", is head of the healthcare department at the firm. Mr. Schaff is held in "high regard for his representation of hospitals and physicians and elicits much praise for his wealth of knowledge".
David H. Stein, ranked by Chambers USA in 2014 under "Bankruptcy/Restructuring", chairs the Creditors' Rights and bankruptcy team at Wilentz and is an experienced litigator who regularly handles work for clients such as banks, financial institutions, debtors and other parties involved in the federal and state debtor-creditor field.
Steven J. Tripp, ranked by Chambers USA in 2014 under "Real Estate", co-chairs the Land Use/ Environmental team and focuses his practice on all aspects of land use regulation and related litigation, and complements his practice with experience in redevelopment. Sources note that he "understands land use law perfectly and is calm, reassuring and knowledgeable on topics."
In addition, five of the firm's practice areas have been recognized by Chambers USA, including Bankruptcy/Restructuring, Corporate/M&A, Healthcare, Litigation: General Commercial and Real Estate.
Clients of the Creditors' Rights and Bankruptcy team state that Wilentz is "a good firm with a very good reputation in New Jersey." The Creditors' Rights and Bankruptcy team maintains its strong presence in bankruptcy and creditors' rights issues across the Northeast. The team also handles work such as Chapter 11 reorganizations, mass tort litigation involving bankruptcy issues and Chapter 7 liquidations.
The Business Law team has a broad-based practice with significant experience in the technology and healthcare sectors. Clients of the Business Law team state that "if we have an urgent issue they will get back to us even if they are on vacation."
The Wilentz Healthcare team has experience in assisting clients on merging and structuring healthcare entities. They are well versed in regulatory and licensure issues in New Jersey and accustomed to working on highly complex deals. Clients of the Healthcare team state that "they hire very bright people who work well with clients. They are practical in their approach and always mindful of regulatory compliance."
The Commercial Litigation team at Wilentz handles numerous commercial disputes in both state and federal courts. The team acts for clients from a variety of industries including healthcare, retail and real estate and is also known for its representation of plaintiffs in contentious issues. Clients "regard them very highly and all the lawyers I have worked with there have been outstanding. They are very professional, well prepared and they represent their clients very well."
The Real Estate team provides integrated multidisciplinary legal solutions for property investment, development, management and on real estate financings. Team members are adept at strategic counseling, coordination of land use and environmental permitting, and enhancement of business opportunities for projects of all sizes, through knowledge and application of the law and effective relationships with many of the regulating entities. With extensive state-wide experience on redevelopment projects, they represent private and public clients engaged in revitalization of urban and suburban communities. As clients have said: Wilentz is known for "an impressively deep practice, housing strong transactional, redevelopment and land use teams. [The Real Estate Team] regularly handles some of the largest real estate transactions in the state and also advises on areas such as regulatory compliance, environmental issues and financing."
About Chambers
Chambers USA, an edition of The Chambers Guides, selects lawyers in every state using an independent selection process and editorial commentary. For more information on their ranking procedures, please visit: http://www.chambersandpartners.com/methodology.
Chambers is an extremely highly regarded peer review publication, and is a private organization, not a court sponsored public certification vehicle. Accordingly, no aspects of these recognitions are submitted to or approved by the New Jersey Supreme Court.
About Wilentz, Goldman & Spitzer, P.A.
Founded in 1919 by David T. Wilentz, the New Jersey-based law firm is committed to its clients and the legal profession, and has been at the forefront of numerous landmark cases and precedent-setting decisions. The firm offers legal services throughout the New York Metropolitan area and Pennsylvania with offices in Woodbridge and Eatontown, New Jersey, New York City, and Philadelphia. For more information about Wilentz, Goldman & Spitzer, visit http://www.wilentz.com.