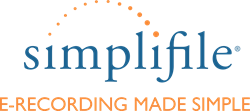 We're excited to partner with the Arbor Day Foundation to help restore our nation's tree population and support our customers who save trees every day just by e-recording.
PROVO, Utah (PRWEB) January 15, 2014
Simplifile announced Bourbon County, Kan., as its 1,000th U.S. county to adopt its e-recording service today, making Simplifile the first e-recording provider in the nation to grow its network to 1,000 recording jurisdictions.
"We're honored to celebrate this landmark achievement with Bourbon County as our 1,000th e-recording county," said Paul Clifford, president of Simplifile. "There is no question that e-recording saves time and money for both the county and its customers, which is why it has quickly become the preferred method for recording nationwide."
Growing its e-recording network to more than 1,000 counties reaffirmed Simplifile's position as the largest and fastest-growing e-recording service provider in the nation. To celebrate this company milestone and e-recording industry landmark, Simplifile has teamed up with the Arbor Day Foundation to plant 1,000 trees in the nation's forests.
"These trees will help provide cleaner air and cleaner water, habitat for wildlife and beauty for all to enjoy. By helping us to plant trees, Simplifile is demonstrating a commitment to environmental stewardship that will benefit our current generation and future generations to come," said Dan Lambe, vice president of Programs and Corporate Partnerships of the Arbor Day Foundation.
Working with the Arbor Day Foundation goes hand in hand with Simplifile's environmentally-friendly recording solutions, helping counties and their customers transition to a more paperless work environment.
"We're excited to work with the Arbor Day Foundation in helping to restore our nation's forests and support our customers who save trees every day just by e-recording. We wanted to do something special to commemorate this milestone not only for our company, but also for them," Clifford said.
Simplifile's e-recording service enables title companies, banks, attorneys, lien filers, and all other types of document submitters record documents electronically. Instead of submitting documents to counties by mail, courier service, or driving to the courthouse, customers can quickly scan, upload, and submit using Simplifile's online service. In minutes, counties can receive, review, record and return the documents back to customers through Simplifile.
"There is really no downside to e-recording. Every single customer that starts using Simplifile finds it faster, easier, and more efficient than any other recording method. This year we will continue to focus our efforts on making e-recording available in every recording jurisdiction across the nation," Clifford added.
Last year alone, Simplifile added more than 200 recording jurisdictions to its e-recording network and now covers nearly one third of the nation's recording jurisdictions. With the addition of New York City and its surrounding boroughs, the Simplifile also provides more population coverage than any other vendor with its service available to over 62 percent of the total U.S. population.
Simplifile also helped two new states, Delaware and Connecticut, open their doors to e-recording in 2013, making Simplifile's service available in 42 states.
"We love what we do and seeing how happy it makes our customers to have the ability to e-record. It makes everything so much easier, and for me there is nothing more rewarding than that," Clifford said. "We've led the e-recording industry for the past 12 years, and look forward to the continued growth, opportunities, and success shared with our employees, our partners, and our customers."
Simplifile provides free training and 24/7 support for all users. For more information about e-recording call 800-460-5657 or visit simplifile.com.
About Simplifile
Simplifile is the nation's largest and fastest-growing e-recording service provider. Simplifile supports thousands of e-recording customers including title companies, banks, attorneys, lien filers, and other organizations that create and submit documents to more than 1,000 local, state, and federal government jurisdictions. Simplifile's electronic document services save time and the expenses associated with traditional document submission methods. Simplifile is focused on building the industry's largest and easiest-to-use e-recording service for organizations of all sizes. More information about Simplifile may be found at simplifile.com or by calling 800-460-5657.
About The Arbor Day Foundation
The Arbor Day Foundation is a nonprofit, conservation and education organization of more than one million members, with a mission to inspire people to plant, nurture and celebrate trees. More information on the Foundation and its programs can be found at arborday.org.
"Simplifile" is a registered service mark of Simplifile, LC. Arbor Day Foundation™ is a registered trademark of Arbor Day Foundation, a 501(c)(3) organization.
# # #