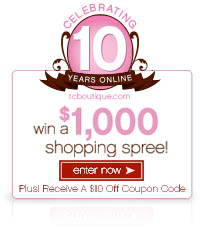 "The TCBoutique.com 10th Anniversary $1,000 Shopping Spree is our way of thanking all of the women of discriminating taste in clothing who look to us for unique outfits and trendy tops, skirts, pants, dresses, handbags and jewelry"
Wilton, CT July 14, 2014 (PRWEB) July 16, 2014
Tres Chic Boutique LLC, http://www.TCBoutique.com, where the discerning woman shops for signature styles like XCVI Wearables, is celebrating its 10th year online with a $1,000 shopping spree.
"The TCBoutique.com 10th Anniversary $1,000 Shopping Spree is our way of thanking all of the women of discriminating taste in clothing who look to us for unique outfits and trendy tops, skirts, pants, dresses, handbags and jewelry," said co-founder Carol Comiskey. The random drawing will allow one lucky winner a chance to create her own individual look from hard-to-find brands featuring XCVI Wearables, Comfy USA, Nally & Millie, Last Tango, and Liquid Metal by Sergio Gutierrez.
Visit http://www.tcboutique.com/10th-anniversary-1000-shopping-spree.aspx to enter and for official rules for the women's clothing random drawing. Entry deadline is September 1, 2014. In addition, each entrant will receive a $10 off coupon code redeemable at TCBoutique.com
See for yourself why people love TC Boutique http://www.tcboutique.com/signature-style-video.aspx.
About The Company
Très Chic Boutique was launched in the spring of 2004 as TCBoutique.com by the mother and daughter team of Carol Comiskey and Carin Keane. The two put their love of shopping and brands like XCVI clothing into creating a unique online store for the purpose of outfitting the woman who expresses herself through her choice of clothes.