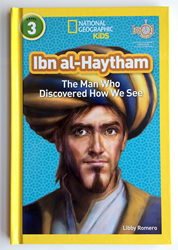 "We are pleased to continue our partnership with 1001 Inventions to celebrate the scientific legacy and achievements from Muslim Civilization" Erica Green, Vice President and Editorial Director of National Geographic Kids Books
Washington DC (PRWEB) January 19, 2016
1001 Inventions and National Geographic Kids announced today a new partnership to publish the book "Ibn al-Haytham: The Man Who Discovered How We See" as part of the highly successful National Geographic Kids Readers Series. The English language publication is planned for release in spring 2016.
The book is a special tribute to the 11th century pioneering scientific thinker Al-Hasan Ibn al-Haytham (known in the West by the Latinized form of his first name "Alhazen"). Considered by many as the 'Father of Optics,' he made important contributions to the understanding of vision, optics and light. Ibn al-Haytham's methodology of investigation, in particular using experiment to verify theory, shows certain similarities to what later became known as the modern scientific method.
Ibn al-Haytham lived during the golden age of Muslim civilization that spread from Spain to China. During this time many men and women scholars and scientists of different cultures and faiths built on knowledge from ancient civilizations and made breakthroughs that have helped transform our modern world.
"We are pleased to continue our partnership with 1001 Inventions to celebrate the scientific legacy and achievements from Muslim Civilization", said Erica Green, Vice President and Editorial Director of National Geographic Kids Books. "Our new reader about Ibn al-Haytham teaches kids about the important contributions he made to science and places him along other notable scientists in our series like Thomas Edison and Alexander Graham Bell".
Ahmed Salim, Producer and Director of 1001 Inventions said: "We are very excited to further collaborate with National Geographic. This project builds on the strong partnership between our organizations and the success of the two books, '1001 Inventions the Enduring Legacy of Muslim Civilization' and '1001 Inventions and Awesome Facts from Muslim Civilization'. Ibn al-Haytham's inspirational life and his contributions to our world are important to recognize. We are delighted that this book is part of our global campaign '1001 Inventions and the World of Ibn Al-Haytham' that celebrates the United Nations International Year of Light in partnership with UNESCO. Our aim is to connect children from different cultures together, aspiring to help raise a generation equipped with a mindset of mutual understanding and respect hoping for a better future".
This book will also serve as a companion to the international educational campaign, "1001 Inventions and the World of Ibn Al-Haytham," that includes interactive exhibits, workshops, live shows, and a 12-minute film starring the late legendary actor Omar Sharif in his final cinematic appearance. The film's trailer can be watched on youtube and http://www.IbnAlhaytham.com
The National Geographic Kids Readers Series is a top performer in the competitive beginning reader category. This book follows upon that success with the same standard of carefully leveled text, dazzling photographs and illustrations and fun approach to fascinating nonfiction subjects, a set of elements that has proved to create a winning formula with kids.
The Level 3 text provides accessible, yet wide-ranging, information for independent readers. Pre-orders of the book are now available on Amazon.com, barnesandnoble.com, and other online retailers.
END
About 1001 Inventions
1001 Inventions is an award-winning, British based organization that creates international educational campaigns and engaging transmedia productions aiming to raise awareness of the contributions to science, technology and culture from the Golden Age of Muslim Civilisation.
Over the last five years, 1001 Inventions has engaged with over 200 million people across the globe. The organization works with a network of international partners, including UNESCO, and leading academics to produce interactive exhibits, short films, live shows, books and classroom learning materials that are being used by hundreds of thousands of educators around the world. 1001 Inventions is a founding partner of the United Nation's proclaimed International Year of Light 2015.
Further information can be found at:
http://www.1001inventions.com
http://www.facebook.com/1001inventions
About National Geographic Kids
National Geographic Kids teaches kids about the world and how it works, empowering them to succeed and make it a better place. National Geographic Kids inspires young adventurers through award-winning magazines, books, apps, games, toys, videos, events and a website, and is the only kids brand with a world-class scientific organization at its core. Follow National Geographic Kids on Twitter, Facebook and Google+.
Pre-orders of the book are available on Amazon: http://www.amazon.com/National-Geographic-Readers-al-Haytham-Discovered/dp/1426325002
About International Year of Light and Light-Based Technologies
The International Year of Light and Light-Based Technologies (IYL 2015) is a global initiative adopted by the United Nations (A/RES/68/221) to raise awareness of how optical technologies promote sustainable development and provide solutions to worldwide challenges in energy, education, agriculture, communications and health. With UNESCO as lead agency, IYL 2015 programs promote improved public and political understanding of the central role of light in the modern world while also celebrating noteworthy anniversaries in 2015—from the first studies of optics 1,000 years ago to discoveries in optical communications that power the Internet today.
Further information can be found at: http://www.light2015.org