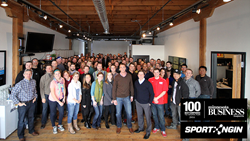 This inclusion is 100% driven by our incredible employees.
Minneapolis, MN (PRWEB) March 12, 2014
Sport Ngin announced today that it has been selected by Minnesota Business Magazine as a "100 Best Companies to Work For" in Minnesota for 2014. The list, comprised of 100 Minnesota companies, was selected based on employee surveys administered by the magazine.
"We are incredibly proud of this honor in particular because it is based on the feedback of our employees and not just a revenue or growth number," said Carson Kipfer, co-founder and chief evangelist at Sport Ngin. "We base success on a number of factors and employee satisfaction is one of them. We believe making the "100 Best Companies to Work For" is a validation of our commitment to that."
A world-class technology innovator, Minneapolis-based Sport Ngin specializes in the execution of digital sports content strategy, design, and marketing. With more than 200,000 sports organizations, teams, leagues, clubs, associations, and tournaments currently using its proprietary software platform, also known as Sport Ngin, the company is one of the largest privately held sports technology companies in North America.
"We have a set of core values that serves as the bedrock of our culture. Our employees live these everyday, and we believe our products, customers, and all employees benefit from their commitment to those values," added Anna Klombies, VP of Human Resources. "This inclusion is 100% driven by our incredible employees."
A celebration for the 100 Best Companies to Work For in Minnesota will be held June 5, 2014 at RiverCentre in St. Paul. Sport Ngin is a growing organization and available career opportunities can be found on their website by visiting http://www.sportngin.com/careers.
# # #
About Sport Ngin
Formerly TST Media, Sport Ngin is the leading provider of web software and mobile applications for youth, amateur, and professional sports. Powering more than 200,000 sports teams, leagues, clubs, and associations, Sport Ngin features a complete suite of easy-to-use tools that help sports organizations manage, connect, and communicate with a diverse range of stakeholders, including athletes, parents, administrators, coaches, referees, scouts, volunteers, fans, journalists, and sponsors. Founded in 2008, Sport Ngin is based in Minneapolis, Minn. For more information, please visit http://www.sportngin.com; like the company on Facebook at Facebook.com/SportNgin; or follow Sport Ngin on Twitter at @sportngin.