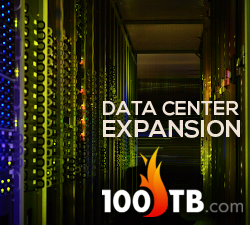 Future expansion is going to be beautiful.
Salt Lake City, Utah (PRWEB) April 09, 2014
In 2012, 100TB.com hit the headlines by announcing a series of industry-leading data center improvements. Two years later, the company with the iconic flame is still adding fuel to its fire with impressive infrastructure and hardware upgrades.
In fact, since 100TB.com's inception in 2010, more than five million dollars has been spent on data center infrastructure and network architecture by 100TB.com.
"We're very pleased with the progress and investment we've been able to make with both our London and Salt Lake data centers," said Thomas Hancock, the general manager of 100TB.com. "We do it to ensure our clients are getting the best solution out there, which enables them to grow alongside us."
In their London data center, 100TB.com's infrastructure engineers went green by revolutionizing the traditional data center cooling system and building, what they called, "something beautifully efficient."
"We have designed and implemented a supplementary free cooling system to run alongside the conventional system that most data centers would use to cool their servers, which saves a lot of energy," said James, the director of infrastructure for 100TB.com.
The result was cutting electricity consumption by more than a quarter and boosting the data center's power usage efficiency (PUE) rating well above standard marks making it one of the industry leaders. Naturally, 100TB.com's competitors are also beginning to go green, green with envy.
It's more efficient in other areas, too. A thorough productivity audit carried out over the course of two years brought in industry best technology including loads of new server and networking hardware.
Since the brand was set up, 100TB.com's hardware has scaled from campfire to bonfire. The London data center, alone, is now almost five times bigger, physically, than it was in the beginning.
Speaking of hardware upgrades, James' eyes look upward and glaze over when he thinks of both their Salt Lake City and London data centers future-proofed hardware.
"Future expansion is going to be beautiful," said James.
In Utah, upgrades have been carried out using Cisco's top-end networking hardware offering redundancy and massive throughput capability; capabilities far above today's needs making it ready for even more expansion in the future.
To learn more about 100TB.com's data center and infrastructure visit their data center page here.
About 100TB.com
The originator of 100TB dedicated servers, 100TB.com offers the latest in high power and high performance dedicated server hosting. Through their global network of on-demand data centers 100TB.com provides cloud and dedicated servers to clients across the globe and are committed to providing innovative and powerful hosting services. 100TB.com's technology is backed by the best-in-class network equipment, server hardware and world-class 24 x 7 support. 100TB.com is part of a global group of brands known as the UK2 Group. The UK2 Group has provided Web hosting, domain registration and Internet services to consumers and business alike since 1998. For more information about 100TB.com, visit http://www.100TB.com.