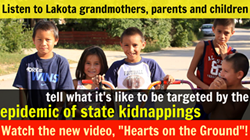 Our Facebook fans were able to follow us in real time as the solution to the Native foster care crisis began to come together.
Santa Cruz, CA (PRWEB) March 19, 2014
With the help of University of California Santa Cruz interns and alums, the Romero Institute's primary project, the Lakota People's Law Project has leveraged social media to advocate for the establishment of Lakota-operated child and family services programs. The Lakota People's Law Project is supporting Lakota leaders in their efforts to prevent the taking of Lakota children from their families and tribes in violation of the Indian Child Welfare Act.
The Lakota People's Law Project is based in Rapid City, SD and sponsored by the Romero Institute, a non-profit organization in Santa Cruz, CA. Like many small non-profits, the Romero Institute was faced with the challenge of developing a national constituency with almost no budget.
"We began in the summer of 2012 and after 21 months, we are now at 100,000 likes on our Facebook page," says Robert Moddelmog, a 2013 UC Santa Cruz graduate who is the online community organizer for the Romero Institute. After NPR aired an award-winning expose in October 2011on the injustices facing Lakota foster children, the Bureau of Indian Affairs promised to hold a summit on the issue. "We grew slowly at first," Moddelmog observes, "and then we picked up steam as our Facebook fans signed and shared our petition and made sure that the B.I.A. followed through with their promise."
"We got a mixed reaction to our initial Facebook posts for the first nine months, until the B.I.A. finally held their summit in May 2013," Executive Director Sara Nelson explained. "After the summit, all of our posts were well received and the level of sharing went through the roof and our 'likes' started to grow more rapidly."
By July 2013, South Dakota Governor Dennis Daugaard yielded to mounting national pressure and publicly stated his support for turning over federal funding to the nine Lakota tribes for their own child and family service programs. At the same time, the tribal council leaders met in an historic meeting as the Oceti Sakowin, the Seven Council Fires, which had been their traditional decision making body before the conquest.
"Our Facebook fans were able to follow us in real time as the solution to the Native foster care crisis began to come together," Moddelmog said. "One of the keys to our success," said Christopher Sherertz, another UC Santa Cruz alum who is in charge of digital media production, "is the creation of short videos and Facebook 'memes' that are digital posters." Sherertz also cited the helpfulness of online allies, such as the highly successful Facebook page of the "Last Real Indians", started by Lakota Law attorney Chase Iron Eyes. Help also came from notable bloggers Navajo and Meteor Blades of the popular Daily Kos, a progressive blogging community.
Nelson encourages other non-profits to think of their followers as participants, and to invite them to join in their events, campaigns, and petitions. According to Nelson, "Our success with Facebook is grounded in real world organizing that gets results. We have many volunteers and interns who all play a creative role in helping us maximize social media outreach and participation. We cannot thank our student interns and 100,000 followers enough for all they have done to save the Lakota children. Step by step, we are getting closer to a structural solution to a problem that began 150 years ago and persists to this day - the terrible taking of the children."