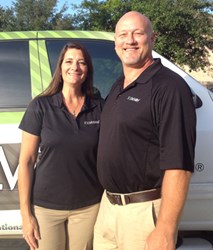 We hope to add value not only to 101 Mobility and our team, but to our community as a whole.
(PRWEB) February 03, 2014
Bruce and Debra Dowden, owners of 101 Mobility Austin, are dedicating the week of February 3rd - 7th to a Meet & Greet across the Greater Austin area. The local business owners hope to meet with agencies and individuals who are directly or indirectly involved with Austin's aging and disabled communities.
The Dowdens are both active community members and pride themselves in old-fashioned handshake sales and face-to-face service. The company sells, installs, repairs, and rents a wide range of mobility equipment including stair lifts, wheelchair ramps, porch lifts, auto lifts, patient lifts, and accessibility solutions.
101 Mobility's goal this week is to form strategic alliances, referral programs, and identify community outreach opportunities in Austin. They hope the weeklong blitz will help them increase their customer reach and identify ways to give back. Bruce and Debra are excited to align their business with others who share similar goals and values while strengthening their own presence in Austin. Debra Dowden says, "We hope to add value not only to 101 Mobility and our team, but to our community as a whole."
101 Mobility Austin is scheduled to meet with local Muscular Dystrophy Association (MDA), Amyotrophic Lateral Sclerosis Association (ALS), National Multiple Sclerosis Society (NMSS) chapters, and Dawn Hearn Interior Design – a Certified Aging in Place Specialist (CAPS) who focuses on efficient aging in place home design.
Debra and Bruce are busy hitting the phones and knocking on doors to link up with other Austin-based organizations. Local businesses, agencies, and individuals are encouraged to reach out as the Dowdens are always happy to stop by. Contact 101 Mobility Austin at 512.650.0354.
101 Mobility is a full-service sales, service, and installation provider of a complete line of mobility and accessibility products and equipment, including stair lifts, auto lifts, ramps, porch lifts, patient lifts, power wheelchairs, scooters and more. Short and long-term rentals are also available for home, office, and institution. By working with patients to identify which home health care devices best suit each individual's needs, 101 Mobility provides an alternative to group homes and rehabilitation centers by increasing accessibility and allowing clients to live self-sufficiently in their homes.