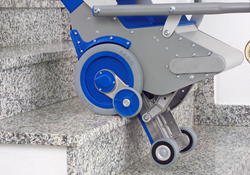 Columbus, OH (PRWEB) October 03, 2014
WHAT: Columbus area listeners can tune into 98.9 The Answer on Sunday to hear Jeff Franklin of 101 Mobility of Columbus and Jeanine Carroccio of Mobility Lifter Liftkar PT on the All Things Health program. All Things Health is a weekly program focusing on health issues that matter to the Columbus community. On the first Sunday of each month, Jeff interviews an area professional specializing in mobility, caregiving, or aging-in-place.
On this month's show, Jeff and Jeanine will discuss the mobility advantages of the Liftkar. Jeanine is the president of Liftkar and will be speaking to the functionality and convenience of the Liktkar PT-U, Liftkar PT-S, and Liftkar PT-A. These extremely unique devices allow a wheelchair user to climb or descend stairs when there is not a stair lift or elevator readily available. It can also be used in situations where the stairway or structure does not allow for safe accessibility modifications. Dependent on the model, a user either remains in their wheelchair or is carried in a seated position up or down the steps. The device is lightweight and can be easily operated and folded down for transport.
Jeff Franklin recently began offering the Liftkar's product line to his Columbus and Cleveland area customers. To learn more about 101 Mobility of Columbus' available Liftkar models, please visit http://columbus.101mobility.com/mobility-lifter-liftkar.php or tune into 98.9 The Answer on Sunday.
To learn more about the radio program and listen to previous episodes, please visit: http://www.989theanswer.com/pages/wide/All_Things_Health.
STATION: 98.9 FM The Answer – News.Opinion.Passion, Columbus, Ohio
WHEN: All About Health airs on the first Sunday of each month. October's show airs Sunday, October 5, 2014, 8:00 AM – 9:00 AM
###
About 101 Mobility of Columbus:
101 Mobility of Columbus is a full-service sales, service, and installation provider of a complete line of mobility and accessibility products and equipment, including stair lifts, auto lifts, ramps, porch lifts, patient lifts, power wheelchairs, scooters and more. Short and long-term rentals are also available for home, office, and institution. By working with patients to identify which home health care devices best suit each individual's needs, 101 Mobility of Columbus provides an alternative to group homes and rehabilitation centers by increasing accessibility and allowing clients to live self-sufficiently in their homes. For more information, please visit: http://columbus.101mobility.com/index.php