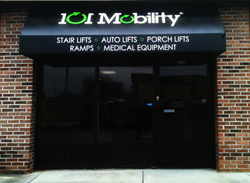 "The 101 Mobilty Team is excited to bring even more accessible solutions to Knoxville"
Knoxville, TN (PRWEB) March 03, 2014
101 Mobility of East Tennessee, a mobility solutions provider and installer, has moved a swift ten minute drive down the Oak Ridge Highway to a new location. The fresh, dynamic space allows owners Dave Dean and Keith Kregel to showcase a wider range of mobility products and easily complete auto lift installations in their full-service garage.
New Address:
211 Sherway Road, Suite A
Knoxville, TN 37922
Phone: 865-896-9425
101 Mobility Knoxville upholds its bright reputation as a mobility device retailer through client focused consultations and professional in-home installations. From stair lifts to ADA compliant patient lifts, owners Dean and Kregel stand by each product and their staff's unparalleled approach to customer service.
The new expansion comes with some serious anticipation. "Area businesses and residents have already been taking advantage of our innovative product line, rental program, and our help with ADA compliancy," said Kregel. "The 101 Mobility Knoxville team is excited to bring even more accessible solutions to Knoxville, and we hope to help a greater number of customers with our larger product selection, expansive showroom, and more efficient service area."
101 Mobility Knoxville is now open for business in their new space. For more information concerning product availability and services, please visit: http://knoxville.101mobility.com/.
###
101 Mobility is a full-service sales, service, and installation provider of a complete line of mobility and accessibility products and equipment, including stair lifts, auto lifts, ramps, porch lifts, patient lifts, power wheelchairs, scooters and more. Short and long-term rentals are also available for home, office, and institution. By working with patients to identify which home health care devices best suit each individual's needs, 101 Mobility provides an alternative to group homes and rehabilitation centers by increasing accessibility and allowing clients to live self-sufficiently in their homes.
For more information, please visit: http://101mobility.com/.