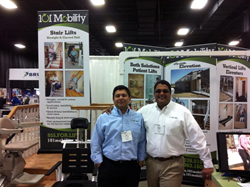 Teaneck, NJ (PRWEB) September 10, 2014
WHAT:
Catch 101 Mobility of North Jersey at the Special Needs Expo of New Jersey this Sunday. 101 Mobility of North Jersey is a local resource for mobility and accessibility equipment for long-term installation and short-term rentals. Owners Sonny Singh and Vin Bahuguna carry a complete line of stair lifts, patient lifts, wheelchair ramps, vertical platform lifts, auto lifts, and more. Both Sonny and Vin will be on hand demonstrating units and answering questions about their products suited for both children and adult use.
The Special Needs Expo of New Jersey is a unique event that brings together service providers, non-profit organizations, schools, recreational programs, occupational therapists, and vocational programs. There will be demonstrations and presentations for programs, products, and services for children as well as adults living with disabilities.
For additional information about 101 Mobility of North Jersey and the mobility and accessibility solutions to be featured at the expo, please visit: http://northjersey.101mobility.com/
WHEN:
Sunday, September 14, 2014 11:00 AM – 5:00 PM
WHERE:
Marriott at Glenpoint
100 Frank W Burr Boulevards
Teaneck, NJ 07666
RSVP:
Admission is free and attendees can register in advance at: http://www.specialneedsexpos.com
###
About 101 Mobility of North Jersey:
101 Mobility of North Jersey is a full-service sales, service, and installation provider of a complete line of mobility and accessibility products and equipment, including stair lifts, auto lifts, ramps, porch lifts, patient lifts, power wheelchairs, scooters and more. Short and long-term rentals are also available for home, office, and institution. By working with patients to identify which home health care devices best suit each individual's needs, 101 Mobility of North Jersey provides an alternative to group homes and rehabilitation centers by increasing accessibility and allowing clients to live self-sufficiently in their homes.
For more information, please visit: http://northjersey.101mobility.com/