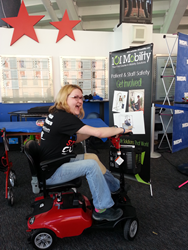 101 Mobility Rochester participated in MDA Rochester & Buffalo's Muscle Walk.
Rochester, NY (PRWEB) March 22, 2014
101 Mobility Rochester participated in MDA Rochester & Buffalo's Muscle Walk on Sunday, March 9th at the Blue Cross Arena. The event raised 40k to benefit both children and adults in the Greater Rochester and Finger Lakes areas.
101 Mobility owners Miguel and Jessica Millan attended the walk and donated a scooter for the day's festivities. Walk participants were able to purchase raffle tickets for the scooter, and ticket proceeds went toward the Muscle Walk Fundraiser.
"There was a decent turnout despite the tough weather we've been having this winter," said Miguel. It looks like frigid conditions did not dampen anyone's spirits that day. Check out the wonderful heartwarming video from MDA Rochester and Buffalo featuring some energetic walk supporters: http://youtu.be/j7T5YY0X9XU.
To learn more about MDA Rochester & Buffalo and their Muscle Walk event, please visit: https://www.facebook.com/MDARochester.
For additional information about 101 Mobility Rochester including services and product availability, please visit: http://rochester.101mobility.com/.
101 Mobility is a full-service sales, service, and installation provider of a complete line of mobility and accessibility products and equipment, including stair lifts, auto lifts, ramps, porch lifts, patient lifts, power wheelchairs, scooters and more. Short and long-term rentals are also available for home, office, and institution. By working with patients to identify which home health care devices best suit each individual's needs, 101 Mobility provides an alternative to group homes and rehabilitation centers by increasing accessibility and allowing clients to live self-sufficiently in their homes.
For more information, please visit: http://101mobility.com/.