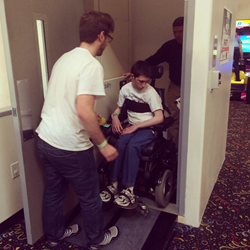 Bravo to Jungle Rapids for putting the City of Wilmington one step closer to full public accessibility.
Wilmington, NC (PRWEB) March 13, 2014
Local mobility device retailer and installer 101 Mobility and family-fun attraction Jungle Rapids collaborated to increase the arcade's accessibility by installing a wheelchair lift. Around 65 local children, their families, and local disability organizations including Miracle League, DisAbilty Resource Center, Coastal Carolinas MDA, Codington Elementary School, Easter Seals, Exceptional Children's Netowrk, and Hotwheels Power Wheelchair Hockey Team all attended the event.
Prior to the installation, the second floor party rooms where inaccessible for those in a wheelchair. Jungle Rapids general manager Doug Bryant expressed interest in improving the property's accommodations. 101 Mobility, located directly across from the park's Oleander Drive location, was totally game for the task at hand. Senior Vice President Keith Barnhardt was thrilled to partner with Jungle Rapids for the project. "I couldn't think of a more perfect way to celebrate today," Keith said as he addressed the room. "We're so happy you were all able to join us and make this day complete because it's rare that we get to see our work fully come to life. It really is so cool to see you all enjoying the lift and everything else that Jungle Rapids has to offer."
The vertical wheelchair lift is user-friendly for any member of the family. Patrons can now easily roll onto the platform, push a button, and safely and conveniently travel to Jungle Rapid's second floor.
The children were absolutely teeming with excitement on their ride up in the platform lift because, for the first time, they were able to reach the party level and get a bird's-eye view of Jungle Rapids.
Party attendees also enjoyed car valet service from the wonderful team at A&B Valet as well as a jungle-themed pizza party. Arcade games were on the house, and kids got to use Jungle Rapids' new reloadable 'Jungle Fun Cards'. These neat cards have replaced the former token and ticket system. The cards were a big hit due to their convenient design and eco-friendly nature. The fun certainly did not stop at the arcade games - kids also faced off in a few exhilarating rounds of adaptive laser tag!
Overall, the night was a wonderful celebration of progress for the Port City and a great preview for the exciting summer months ahead. Bravo to Jungle Rapids for putting the City of Wilmington one step closer to full public accessibility.
About 101 Mobility:
101 Mobility is a full-service sales, service, and installation provider of a complete line of mobility and accessibility products and equipment, including stair lifts, auto lifts, ramps, porch lifts, patient lifts, power wheelchairs, scooters and more. Short and long-term rentals are also available for home, office, and institution. By working with patients to identify which home health care devices best suit each individual's needs, 101 Mobility provides an alternative to group homes and rehabilitation centers by increasing accessibility and allowing clients to live self-sufficiently in their homes.
For more information, please visit: http://101mobility.com/
About Jungle Rapids:
Jungle Rapids is a family fun park located in Wilmington, NC. The park features go karts, laser tag, jungle golf, an arcade, climbing wall, kids jungle indoor playground, and a water park. There is surely something fun for every family member. Jungle Rapids also hosts special events such as birthday parties and group outings in their private function rooms. For more information, please visit: http://www.junglerapids.com/.