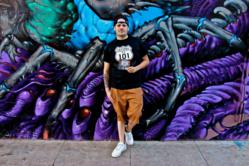 The name for the mixtape comes from the California Highway Jesse J and I traveled constantly while we were in production from the North Bay back to LA- RudyG, Founder, RG Recordings
Los Angeles, California (PRWEB) July 11, 2013
Rudy (RudyG) Gonzalez from RG Recordings announced the release of debut Mixtape "101 Northbound" today. It is Jesse (Jesse J) Jacinto's, first full release and comes on the heels of their video from the single "Beast Within". Jesse J, a well-known local rapper from the small town of Windsor, California, began working with RG Recordings a few years ago. They started collaborating on their first studio work at that time along with the music video for the first single "Beast Within".
"The name for the mixtape comes from the California Highway that Jesse J and I traveled constantly while we were in production from the North Bay back to Los Angeles," said RudyG, owner of the studio and producer of the sessions.
The finished music video premiered June 4, 2013 followed by the release of their first mixtape announced today and is available for free for a limited time.
15 Titles from the new release include:

Intro 101 Northbound
Savage Tendencies
Beast Within
Pursuit of Happiness
California Bay
Nights Awake
Down Girl
Aiden
Call It Fate
West Coast
Twerk (Holla At Me)
Roses
Just A Girl
Diamond Girl
Sinner's Karaoke
"There are several terrific cuts" said Rudy G, President and lead producer for 101 Northbound. "We have invested a lot in "Beast Within" ( see video attached or
http://youtu.be/lY9UftnbJfk) he continued, "but there are other great cuts including Roses, Sinner's Karaoke and California Bay which starts with an unusual guitar riff that has received a lot of great feedback." Download the music for free.
Friday, July 19th JesseJ & Roach Gigz are set to perform with Benni Boom at the Mavericks Santa Rosa CD's of the Mixtape will be available at the show along with other merchandise
About RG Recordings
Owner, Producer Rudy G combines his appreciation for Hip Hop, Motown, Electronica and Rock as he creates music, video and clothing with his artists. Their motto: "Nothing Less Than Greatness". The studio, located in Los Angeles strives to achieve this in all of their productions.