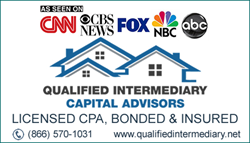 Being one step away from the highest regarded Financial Planning designation on the planet is momentous.
Miami, FL (PRWEB) February 09, 2016
Dr. Robert Hetsler Jr., J.D., CPA, CVA, FCPA, CFF, MAFF, CMAP, the founder and managing partner of Qualified Intermediary Capital Advisors, a leading nationwide provider of qualified intermediary services with offices in 20 locations across the country, and founder and managing partner of QDRONOW.com, has earned membership to the AICPA Personal Financial Planning (PFP) section.
The AICPA Personal Financial Planning Section is the premier provider of information, tools, advocacy and guidance for CPAs who specialize in providing estate, tax, retirement, risk management and investment planning advice to individuals and their closely held entities. On January 27, 2016 Dr. Hetser took the PFS designation which, if passed, will forever solidify his place in the financial community.
"Being one step away from the highest regarded Financial Planning designation on the planet is momentous," commented Dr. Hetsler. "A CPA/PFS is more than a financial planner. He or she is a CPA with the powerful combination of extensive tax expertise and comprehensive knowledge of financial planning."
In a separate but related announcement, Dr. Hetsler, who is also the founder of QDROnow.com – a firm that specializes in preparing QDROs for divorce attorneys across the country – is also in the final stages of formulating his new strategy as the Transitional Financial Support Advisor for the one spouse in a divorce. Recently, this proposed new role was nationally recognized in an article widely read by financial experts.
Noted Dr. Hetsler: "The PFS credential distinguishes one from other financial planners in that only CPA's can hold the PFS credential as well as affirms ones value to current and potential clients a greater level of confidence in your expertise. This is the final piece to the puzzle, because now I have been a divorce mediator, provided divorce expert witness testimony in dozens of cases that involved retirement division, alimony, forensic accounting and business valuation. Having prepared thousands of Qualified Domestic Relations Orders (QDROS), the PFS designation will now allow me to provide the final piece to the divorce puzzle, divorce financial planning. Finally, being a licensed Real Estate Agent really makes me unique in the divorce world because I can provide divorce CFO services at this point and be the first one stop shop the USA has ever known."
For all other information, including media inquiries, contact Dr. Hetsler at 844-234-QDRO 7376 or Robert(at)qdronow(dot)com.
About Qualified Intermediary Capital Advisors & QDRONOW
The Qualified Intermediary Capital Advisors and QDRO NOW team is led by Dr. Robert Hetsler Jr., J.D., CPA, CVA, FCPA, CFF, MAFF, CMAP, who for over 13 years has provided qualified intermediary services to investors for 1031 Exchanges, divorce business valuations and QDRO preparation to facilitate the division of retirement accounts in a divorce among all other things financial in a divorce. Dr. Hetsler's education and professional experience positions him as an expert in all aspects of financial skills required to assist any level of divorce and any dollar value in a 1031 Exchange. Dr. Hetsler is the only known divorce financial professional to be a licensed CPA, CVA, MAFF, FCPA, PFS Candidate as well as provide expert witness testimony in dozens of divorce cases and prepared thousands of retirement division orders. All of these accomplishments, coupled with being a licensed real estate agent, positions him as the world's leading financial expert in all things divorce Dr. Hetsler is also an avid real estate investor who owns multiple self-storage facilities, retail space, warehouse space, self-service car washes, raw commercial and residential land, as well as several investment condos all across multiple states so he understands the business side of real estate being an investor himself which also lends itself to being a natural Qualified Intermediary. Learn more at http://www.qualifiedintermediary.net and http://www.qdronow.com