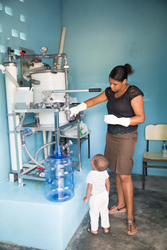 Franklin, NC (PRWEB) January 17, 2017
True to its give-back message of sustainability, 1040.com, the do-it-yourself online tax filing company, continues its Clean Water Initiative with Healing Waters International (HWI) by helping to plant and sustain clean water filtration systems in developing countries.
HWI is a Colorado-based non-profit organization that implements holistic clean water projects in the developing world, transforming thirsting individuals into thriving communities. HWI trains the local community on the installation, upkeep, budget, and business model necessary to successfully run a long-term clean water micro-business. The non-profit also produces a health and hygiene curriculum to teach communities about the importance of safe water and how it will diminish all water-related illnesses.
1040.com saw the fruit of its campaign last tax season: Through its donation pledge of $2 per return, including free returns, 1040.com raised enough money to fund 2.5 million gallons of water. That number translates to a year's supply for over 14,000 people in great need, in countries such as Guatemala, Mexico, Haiti, and the Dominican Republic.
Members from the 1040.com team got to see firsthand the results of HWI's work in Guatemala this past September. "It is impressive to see all that can be accomplished when people are united, share the same goals, and work side-by-side to create lasting change." said Delainie Golightly, a software tester for 1040.com.
D'Anne Maddox, Director of Marketing for 1040.com, added, "Clean water, business training, health and hygiene education – everything HWI is devoted to makes [the community's] quality of life so much better and more sustainable, so that these families can focus even more on what really matters. It inspires us to serve our tax filing clients with the same level of energy and devotion. We want our clients to have a smooth experience filing their taxes so that they, too, can get back to what really matters to them."
HWI Director of Development and Marketing Kayla Fruchtman commented on her impression of the tax company while in Guatemala. "Watching the team from 1040.com commit to people who don't have access to safe water it is one of the biggest joys," she says. "This team isn't just a group of stuffy employees working for a paycheck. They're a group of committed, fun and kind people who love their work and love seeing how their passion for taxes is part of a bigger global picture. I'm so impressed by how they live their lives individually and as a business. This is a company that I'm proud to partner with."
Learn more at 1040.com/giving-back.
About 1040.com
1040.com provides a website for individuals to file federal and state income taxes online. The site offers an easy interview and guarantees no-haggle pricing, maximum refunds, and accurate calculations. Simple federal returns are free and taxpayers can get their fastest possible refund with e-file and direct deposit. Additionally, 1040.com automatically inserts prior-year data for no extra charge if the taxpayer filed with them before.
1040.com's parent company, Drake Software, has been making professional-grade income tax software since 1977 and is one of the largest income tax software companies, serving over 55,000 tax professionals nationwide. Over 15 million federal income tax returns were filed through its tax applications in 2016. Drake Software is headquartered in Franklin, North Carolina, and its entire development and customer service teams are located in the U.S.A.