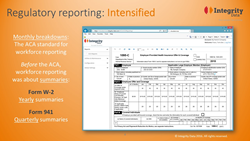 Working with Integrity Data has put an end to our 1095-C nightmare.
Lincoln, Ill. (PRWEB) February 10, 2016
As the intensity of new employer reporting under the Affordable Care Act keeps jarring U.S. businesses that must comply, Integrity Data, a developer of business software for processing payroll and human resources records, announces client successes in fulfilling challenging IRS requirements.
At the center of this compliance anxiety is IRS Form 1095-C, a federal reporting obligation, starting with Tax Year 2015, for U.S. employers with 50 and more full-time employees (including equivalents).
In monthly breakdowns, a 1095-C form – which must be produced for every ACA-defined full-time employee – furnishes details about what, if any, health insurance is offered at a place of employment. This intricate new form for year-end business reporting, which documents both payroll and benefits data according to new classifications and calculations, conveys the most complicated statements of workforce information ever required of U.S. employers.
"We are proud that Integrity Data's diligence in crafting software which properly formats and calculates the information needed on IRS 1095-C forms is now alleviating employers' stress over this new compliance burden," said Patrick Doolin, CEO of Integrity Data, referring to comments from businesses using Integrity Data's ACA Compliance Solution.
"Working with Integrity Data has put an end to our 1095-C nightmare. We had been using [another ACA solution], which was moving so slowly we thought we might not meet the deadline. Integrity made the process easy, and everyone on staff had the knowledge necessary to make us feel confident in the service," said Katherine Coe, Benefits Analyst with AppRiver, an email and web security firm based in Gulf Breeze, Fla.
Though recently the IRS extended to March 31, 2016 the date by which businesses must produce 1095-C forms for their employees, those employers using the Affordable Care Act tracking and reporting software developed and supported by Integrity Data have been able to deliver the forms before the original deadline of February 1, 2016.
"This ACA software was very easy to use, and completed the task with very little effort. It gave me more time to focus on other tasks, knowing that Integrity's software handled much of the heavy lifting," said Thomas E. Reynolds, Human Resources Generalist for the Loxahatchee River District in Jupiter, Fla., an Integrity Data client that provided 1095-C forms to its employees in January.
"Integrity's support team was the backbone of the process," Reynolds says of the successful 1095-C production and distribution. "They are trained well, very knowledgeable of all aspects of 1094/1095, and very confident in the process. Their response to my questions/concerns was always quick, and they always made me feel like my issue was a priority."
Although the IRS has said that employees do not need a 1095-C form in hand for preparation of 1040 filings for 2015, Integrity Data continues to work with businesses to make sure they comfortably meet the March 31 production deadline for Form 1095-C as well as the filing deadlines for the form's 1094-C transmittal to the IRS (May 31, 2016 for paper returns; June 30, 2016 for electronic returns).
"We stand ready to help any organization with 1095-C anxiety," Doolin said.
To learn about the ACA Compliance Solution by Integrity Data, please visit http://www.integrity-data.com/software/aca-compliance/.
ABOUT INTEGRITY DATA
Integrity Data is a longstanding leader in development of software that improves business processes centered on payroll and human resources data. Headquartered in Lincoln, Ill., and founded in 1996, Integrity Data serves over 8,000 organizations worldwide. Integrity Data's leadership in technology for Affordable Care Act reporting compliance includes being the first software company to meet the IRS testing requirements for electronic filing of ACA returns by employers.
Corporate Headquarters
Integrity Data
125 N. Kickapoo
Lincoln, IL 62656
http://www.integrity-data.com
info(at)integrity-data(dot)com
888.786.6162