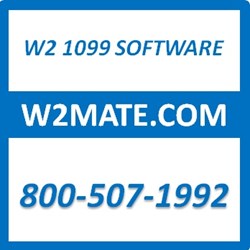 Focused on affordability, ease of use and efficiency, W2 Mate is great for both business filers and accounting professionals processing W2 and 1099 tax forms.
Chicago, IL (PRWEB) December 14, 2013
W2 Mate software, powered by Real Business Solutions (http://www.W2Mate.com/), today announced that the 1099-PATR filing module is available for the 2013/2014 tax season. 1099 PATR filing saves business filers time and money and helps them avoid harsh IRS penalties. W2 Mate is trusted by thousands of businesses nationwide, including accounting firms, credit unions, farms, hotels and many other great American businesses. W2 Mate is distributed electronically for instant download over the internet. The software can also be shipped on a CD. A free fully-featured trial version is available at http://www.W2Mate.com/ for evaluation.
2013 W2 Mate is designed to provide accounting professionals or business users with year-end information reporting capabilities. The network-ready 1099 software can be used to manage multiple payers/clients and includes preparation for 2013/2014 forms W-2, 1099-MISC, 1099-INT, 1099-DIV, 1099-R, 1099-S, 1098-T, 1098, 1099-A, 1099-B, 1099-C, 1099-PATR, 1099-K, 1099-OID, 1096, and W-3. W2 Mate system enables users to produce all copies of forms for paper-based or electronic filing to the SSA, IRS and states that support the combined filing program.
In a statement Nancy Walters, W2 Mate product manager at Real Business Solutions, said, "We are proud to offer this powerful 1099-PATR Software to the business and tax professionals community because it will greatly reduce time and effort for 1099PATR compliance."
A free 2013 1099-PATR filing software evaluation can be downloaded from http://www.W2Mate.com. Customers can purchase the software and receive it instantly.
New changes and updates to forms 1099 were introduced by the IRS for 2013. New boxes have been added, some boxes have been removed and others have been renumbered, modified or moved. All these and other 1099 compliance changes are supported by W2 Mate software for the 2013/2014 tax season.
W2 Mate is the perfect software program for business filers looking for answers to questions like how to generate a 1099 PATR tax form, how to complete 2013 1099-PATR forms electronically, how to file form 1099 with the Idaho state tax department, how to efile 1099-PATR with QuickBooks, how to print 1099's with a laser printer and many other similar questions.
W2 Mate 2013 has an exclusive mechanism for importing data from different accounting and payroll tax software applications to allow filers print a wide range of W2 and 1099 forms. W2 Mate can extract and remap 1099 information available inside Sage Peachtree (Pro, Complete, Premium, Quantum), Microsoft Dynamics (GP or SL), Intuit QuickBooks (QuickBooks Pro, QuickBooks Enterprise, QuickBooks Premier), Sage DacEasy and Excel.
W2 Mate meets the 2013/2014 1099 electronic filing requirements of the Internal Revenue Services and a number of state departments of revenue by proving the ability to generate files in the IRS 1099 electronic filing format. The W2 1099 software also fully supports the EFW2 format for e-filing W2s with the Social Security Administration and states that accept EFW2 submissions.
A free 1099-PATR processing software demo can be downloaded by visiting http://www.W2Mate.com.
About Real Business Solutions: Established in 2003, Real Business Solutions is an industry leader in providing payroll tax solutions, 1099 printing and EFiling programs and IRS W2 forms programs for 2014, 2013, 2012 and before. Real Business Solutions products are used by thousands of businesses, tax professionals, non-profit organization, and government agencies all across America. The Company's mission has been to provide powerful and great value software solutions coupled with high quality customer service.