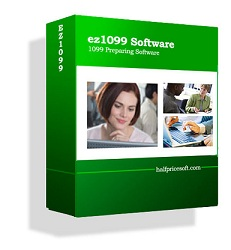 Customers in a rush to file 1099 forms use the efile version of ez1099 2017 software from halfpricesoft.com.
Pittsburgh, PA (PRWEB) October 11, 2017
Ez1099 2017 software has just been released to accommodate accountants, HR managers and employers that need to print and efile various 1099 tax forms. Halfpricesoft.com has improved this software so that even beginners in the tax preparation game can process forms quickly and inexpensively. Another great reason to efile is that helps businesses go green for the environment by eliminating paper waste.
ez1099 2017 assists in compiling, printing and e-filing these other IRS forms: W2G, 1099-IOD, 1097BTC, 1098s (1098, 1098C, 1098E, 1098 T), 1099s (1099A, 1099B, 1099C, 1099CAP, 1099DIV, 1099G, 1099H, 1099INT, 1099LTC, 1099MISC, 1099OID, 1099PATR, 1099Q, 1099R, 1099S, 1099SA), 5498s(5498, 5498ESA, 5498SA), 8935, 3921, 3922, 1096.
Please review the key points of interest in ez1099:
Recipient Copies-
Ez1099 prints all recipient copies on white paper. It will also fill data on pre-printed forms if preferred.
PDF forms (optional)
ez1099 can generate the PDF format forms for recipient copies to help cut the mailing cost.
Electronic Filing(optional)
ez1099 also generates the electronic filing document that can be uploaded to IRS site.
This 1099 tax form software is compatible with Windows 10. It can run on Windows Vista system, 7, 8, 8.1, 10, and MAC machine installed with Virtual Machine or Parallels.
"Customers in a rush to file 1099 forms use the efile version of ez1099 2017 software from halfpricesoft.com." Dr. Ge, founder of Halfpricesoft.com says.
The import feature allows 1099 forms to process even quicker. Cost is only $79 per installation for the basic version of ez1099 Software or $139 per installation for the advanced version with bulk printing feature, import feature, PDF file creation and electronic filing capability.
ez1099 2017 version is affordable for any size business or tax preparation office. As always, customers are encouraged to download and try ez1099 without any risk, cost or obligation at http://www.halfpricesoft.com/1099_software.asp.
About halfpricesoft.com
Ez1099 Software with Form 1099s printing and e-filing capability is developed and distributed by Halfpricesoft.com. Based in Louisville, Ky., the software firm is committed to developing financial software for small businesses that is affordable and easy to use. Additional software titles available from Halfpricesoft.com include ezPaycheck, ezW2, ezCheckPrinting, ezCheckPersonal, ezACH Deposit and ezTimeSheet software.