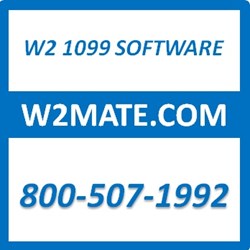 Focused on affordability, ease of use and efficiency, W2 Mate is great for both business filers and accounting professionals processing W2 and 1099 tax forms.
Chicago, IL (PRWEB) December 08, 2013
W2 Mate 2013 helps small businesses and accounting firms meet IRS 2013 / 2014 1099 reporting regulations, save money and save the environment through a set of electronic 1099 processing capabilities. The 2013 W2 1099 software offers all the features users need to E-File, E-Deliver and E-mail 1099 tax forms.
"There is no limit to the number of 1099 E-file and 1099 E-mail submissions users can create," said W2 Mate product manager Nancy Walters. "Most 1099 forms are supported including 1099-MISC, 1099-INT, 1099-DIV, 1099-K and 1099-R. Small business owners can now use the same technology utilized by large organizations to e-Deliver 1099 tax forms to the IRS, state tax departments and to 1099 recipients. "
Free 1099 Software trial can be downloaded from W2 Mate's website by visiting http://www.realtaxtools.com/W2-Mate.html .
Small businesses nationwide rely on W2 Mate to comply with IRS and SSA tax filing regulations. W2 Mate is trusted by restaurants, accounting firms, automobile dealers, bakery shops, beauty salons, consulting companies, dentist offices, educational institutions, farming agriculture companies, hardware stores, hotels, legal offices, nursing homes and religious organizations.
Using 1099 E-File is secure, easy to use, efficient, fast, flexible and helps save the environment. Any filer of information returns may file their returns electronically. Any corporation, partnership, employer, estate or trust, who files 250 or more 1099 forms for any calendar year must file their Information Returns electronically. However, if you have less than 250, we encourage you to file these returns electronically. W2 Mate complies with IRS Publication 1220- Specifications for Filing Form 1098, 1099, 5498, and W-2G Electronically or Magnetically. W2 Mate also complies with SSA EFW2 format - Specifications for Filing Forms W-2 Electronically).
The 2013 PDF 1099 forms feature available in W2 Mate makes issuing 1099s to recipients as simple as sending email. No forms to print, no envelopes to stuff, no paper cuts, no postage and no headache. Just enter recipient information, generate a PDF file and email. The PDF files generated by the W2 Mate W2 / 1099 compliance system are encrypted and require a password in order to be opened. This makes sending these files by e-mail or any other electronic means more secure. The electronic version of form 1099 generated by W2 Mate contains all required information and complies with applicable IRS procedures relating to substitute statements to recipients.
Go green and save some green by downloading W2 Mate 2013 from http://www.realtaxtools.com/