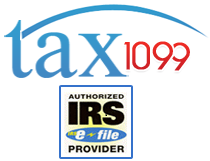 Per recipient price as low as 0.55 and it comes with best integration, US based phone support and many other exclusive features.
Fayetteville, AR (PRWEB) November 25, 2013
The new prices lower existing rates by 17% to 63%, depending on the number of 1099-MISC, 1099-DIV, 1099-INT, 1099-K, and other 1099 forms e-filed. This news comes days after the company announced new features and enhancements of existing features.
"While pricing is not the only factor potential customers take into account, it is an important one," said Sanjeev Singh, Founder & CEO. "We offer features that our competitors don't, such as free TIN matching for accounting customers and free W9 e-Solicitation for everyone, so pricing is one more differentiator."
When asked about the timing of lowering prices immediately after introducing new features, Singh said that had been the plan all along. "We are first and foremost a technology company, one that builds technology solutions that solve tax compliance problems. Technology becomes less expensive over time, and we want to pass our savings along to our customers."
The new features introduced include allowing multiple users under one account, a benefit to accounting customers; W9 e-Solicitation, where a customer can request that a 1099 e-file recipient complete their W9 online; SSN masking, to enhance the security of personal information within the site; and reports that allow users to pull together information into easily downloaded Excel files.
Tax1099.com will soon provide training on handling B-Notices received from the IRS. Their W9 e-Solicitation tool and an existing TIN matching service form two parts of a strategy to improve customers' ability to respond to IRS B-Notices when received. The training will be the third piece of that strategy, with a fourth element to include premium services to assist customers who receive B-Notices. The company has not revealed the particulars of the premium service yet.
Vice President of Business Development Ed Pratt said, "These moves fit our business strategy, which is to build the best suite of tax compliance tools for business filers. The fact that we are able to do that and deliver pricing that beats our competitors' published prices means our customers receive the maximum value for their purchase."
About TechAtlantis, Inc. and its Online Tax Product Offerings:
Tax1099.com is powered by TechAtlantis, Inc. TechAtlantis, Inc. is America's leading online tax solution and service provider, serving the tax filing needs of more than 20,000 customers. TechAtlantis offers a user friendly, innovative, SaaS (software as a service) tool for small businesses and accounting professionals backed by outstanding multi-channel customer support. TechAtlantis also powers ez2290.com, ezifta.com, ezextension.com, and fbaronline.com. Visit Tax1099.com at http://www.tax1099.com/ or TechAtlantis at http://www.techatlantis.com/.
TechAtlantis, Inc.
Ed Pratt, Vice President of Business Development
Office: 877-811-3829
Cell: 443-379-7227
Email: ed(at)techatlantis(dot)com