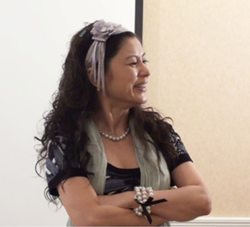 ...in life, one must understand what are the elements which can make one's life happy and successful, and then follow the formulas.
Los Angeles, CA (PRWEB) May 16, 2014
For over 10 years, bestselling author Hellen Chen has traveled around the world to give live seminars to CEOs, managers, individuals and also to students about learning basic concepts of successful living which are not taught in the classroom.
In a recent seminar in Los Angeles, Chen addressed the trend of happiness level at the workplace declining.
"Overall as individuals, we seem to have more technology, have more access to information, and have more possessions -- yet the happiness level has not gone up," said Chen.
According to a recent State of the American Workplace Gallup report, just 30% of employees are engaged and inspired at work.
The other 70% are either not engaged or "actively disengaged" – meaning they are unhappy about work conditions and will even influence their co-workers negatively, drive away customers or express their displeasure openly.
Chen, who has been a frequent guest on ABC, FOX, CBS and NBC news network, and who has written a total of 22 books on the subject of personal success shares her views, "I see all the discussions pointing towards what company leaders can do to increase the job satisfaction level of their employees. But that still does not help an individual."
Chen found that the lack of non-job related skills is often the cause of conflicts and unhappiness in one's career.
"For example, you can be a doctor who has the license to practice medicine. But as you start working with patients, you find out your diploma has not equipped you with communication skills which let you deal with day-to-day human issues," said Chen.
Chen points out how our young generation has been educated to think a diploma can pave the way to success and yet they have a rude awakening when they step into the workforce.
"Communication skills, goal-setting skills, and even having the tenacity to get a job fully done are all vital for one's career success." Chen added, "You can have your dream job. But you must have the skill of how to make your job last too!"
Chen also gave the analogy of marriage relations where she had been mostly known as an expert in.
"Most happily married couples know there is no such thing as a 'perfect' partner. Both sides must constantly work together, and find ways to make the love deep and satisfying." Chen continued, "Thus, in life, one must understand what are the elements which can make one's life happy and successful, and then follow the formulas."
Chen's new book titled "What Schools Don't Teach You: the Ten Most Important Lessons for Life" will be released on May 28 at BarnesAndNoble.com
This book reveals the important lessons which once mastered will open up a new realm of stability and success.
More information about the book can be found on http://TenMostImportantLessons.com.