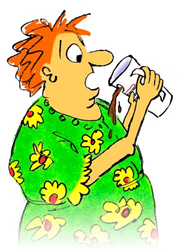 I love the lefty-ness of it, its inherent warning to those of other handedness. Plus, it's bright and cheerful, and a welcome addition to my morning coffee routine - Lefty's customer review
San Francisco, CA (PRWEB) March 30, 2015
Here are 10 great ideas for a left-handed April Fools Day gag, brought to you by Lefty's the Left Hand Store. For centuries, lefties have learned to adapt to the right-handers' way of doing things. April 1 is the perfect day to turn this around!
Lefty's the Left Hand Store offers a selection of both left-handed gag gifts and left-handed tools that provide opportunities for left-handed fun on April Fool's Day:
1. A lefty can ask a rightly to cut something, then hand them a left-handed scissor. The right-hander will not be able to make the scissors work, or they will work very clumsily, and the righty will not know why!
2. The left-hander can ask a right-hander if they'd like to drink from a left-handed mug. The right-hander will say "There's no such thing!" The lefty should one of the Left Hand Store's super popular left-handed dribble mugs which drips down the front when held in the right hand (It's best for the jokester to fill it with water – or make sure the right-hander is wearing clothes that won't stain).
3. A lefty can challenge one or more right-hander to a card game, then use Lefty's the left hand store's left-handed card decks. Righties can't see the card numbers when they fan the cards in their left hand!
4. A skilled lefty can write an April Fool's card in a mirror and give it to their right-handed friend. Lefties can often read mirror writing, but right handers have no clue about what is said.
5. The left-hander can place a backwards alarm clock out where a right-hander can see it, then move out of visual range and ask the righty what time the clock shows. These clocks have the numbers arranged counter-clockwise, but right-handers don't notice at first and read the wrong time.
At Lefty's the Left Hand Store, there are a variety of left-handed tools that will stump righties:
6. The lefty can ask a right-hander to take notes, then give them a left-handed notebook. The right-hander will have to turn the notebook upside down!
7. A left-hander can ask a right-hander to measure the size of something, then give them a left-handed ruler or tape measure. The numbers go the opposite direction - from right to left!
8. The lefty can ask a righty to open a can, making sure a left-handed can opener is the only one available. It rotates counter-clockwise and is designed to be turned by the left hand. Again, the righty will be frustrated, and may not be able to make it work.
9. Or the lefty can ask a right-hander to open a bottle of wine – but provide a left-handed corkscrew. The result will be that the righty turn the bottle rather than the corkscrew, which is designed to rotate counter-clockwise.
10. Finally, the left-hander can ask the poor right-hander, who by this time is a complete wreck, to measure out a cup of flour (or oatmeal or anything else), but give them a left-handed measuring cup – the righty will have to twist their wrists all the way around to read the numbers.
Visit thelefthandstore.com to find these and more left-handed tools and gag ideas. Or visit Lefty's in person at Pier 39, San Francisco; Downtown Disney in Walt Disney World Resorts; or Old Town Mall, Kissimmee, FL. Visit Lefty's Facebook page to see more ideas or to participate in their Facebook Left-handed April Fool's Day Contest.