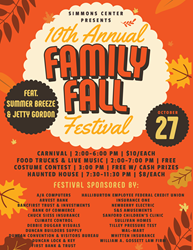 DUNCAN, Okla. (PRWEB) October 24, 2018
Simmons Center's 10th Annual Family Fall Festival will be held Oct 27th at the Simmons Center. The festival will cover everything from games and inflatables for your little ones that afternoon to a scarily great time in the haunted house that night. The event will begin at 2:00 PM and close at 11:30 PM.
Beginning at 2:00, bring out the smaller kiddos for the Family Fall Festival carnival. The carnival will include event staples such as inflatables, as well as a maze, crafts, and games. Bracelets are required to participate in the festivities and can be purchased the day of the event on-site. Each bracelet will be $10/child. The carnival will run from 2:00-6:00 PM.
As part of the 10th year celebration, the festivities will also include live entertainment on an outdoor stage near the carnival. Entertainers scheduled to perform include Jetty Gordon and Summer Breeze. Jetty Gordon, from Bray, Oklahoma, has played music for the majority of her life and picked up her first instrument at the age of 3. She has a background in bluegrass and country music, but extends her talent to other genres such as folk, classic rock and contemporary Christian music. Jetty will open the live concert at 2:00 PM! Summer Breeze is a group of seasoned musicians from Duncan providing a wide variety of music and entertainment for dancing and listening pleasure. Summer Breeze will be taking the stage from 4:00-7:00 PM. There is no charge to attend the concerts.
Once you've gotten your fair share of games and inflatable fun, make sure to bring your little goblins and princesses to the Family Fall Festival costume contest. The contest will be judged based on age groups and winners will be awarded prizes per group. There will also be overall scariest costume and cutest costume winners. Costume contest will take place on outdoor stage at 3:00 PM. Admission to contest is free.
For those who love a good scare, make plans to visit the Simmons Center Haunted House on Oct 27. This year, the haunted house's theme will turn the Jack A. Maurer Convention Center into an insane asylum. Bring a friend and have a fun night of shrieks and squeals beginning at 7:30 PM. Admission is $8/person.
For more information, feel free to visit http://www.simmonscenter.com or call 580-252-2900 x 240.