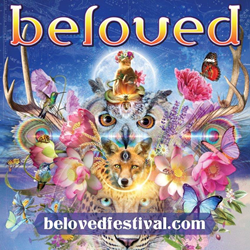 Beloved is a healing event. We believe isolation and disconnection are the key causes of many of the cultural, ecological and personal crises in the world. This festival is dedicated to the power of art and music to heal these wounds.- Elliot Rasenick
Tidewater, OR (PRWEB) July 26, 2017
Held on August 11-14, 2017 in Tidewater, OR, Beloved Festival has always nurtured a special alchemy designed to meld unexpected elements, to challenge and encourage festival goers to focus on the music, the meaning, and the community. The single-stage set up—featuring one performer playing at a time—allows the opportunity to craft one story arc told by the music, and which the festival has been perfecting for the last decade. Everything the festival does—from providing healthy food and a gorgeous site, to sparking searching conversations and vital new friendships—speaks to its values, grounded in social justice, spiritual seeking, and mutual care. Elliot Rasenick, Beloved Festival founder, says: "Beloved is a healing event. We believe isolation and disconnection are the key causes of many of the cultural, ecological and personal crises in the world. This festival is dedicated to the power of sacred art and music to heal these wounds. We are celebrating our 10 years of Beloved in 2017, and we're honored that a huge number of our participants have been with us since the beginning."
Highlights this year include Malian superstars Amadou & Mariam, the hip Yemeni harmonies of A-Wa, reggae legends The Abyssinians, Tuvan throat-singing legends Huun-Huur-Tu, and underground favorites like House of Waters. Latin-inspired dance music pioneers Nickodemus and Captain Planet will pack the dancefloor, after a day-long exploration of world traditions with classical masters like Amjad Ali Khan and psychedelic roots from Thailand, thanks to Khun Narin. Other performers will include Deya Dova, Random Rab, Whitebear, Youssoupha Sidibe, and Phaeleh, among many others.
This year, in addition to a compelling lineup of global musicians and DJs, the festival will host a bevy of cross-cultural collaborations, and some world premieres. Bay Area Latin club maverick Quantic is teaming up with the passionate pan-Latin sisterhood of Fémina for the very first time. House of Hamsa heralds a new incarnation of cult World band Hamsa Lila's North African trance, thanks to live looping and transformation by Heavyweight Dub Champion.
The festival team is also committed to the gender balance of the event. "We're proud to invite groups and projects that feature front women and female musicians," says Rasenick. "Out of 45 or so groups, something like 26 are led by women." He books consciously to create this balance, setting Beloved apart from other music festivals, where women are often remarkably underrepresented. "The irony that you're quoting an educated white man right now is not lost on me, but we really do work to present voices that are too often less heard."
Workshops will highlight musicians and their life stories, shining a light on some of the pressing social justice issues on Americans' minds. Rahim AlHaj and Las Cafeteras will unpack the nuances of border imperialism and sanctuary via their very personal experiences as members of immigrant and refugee communities. Beloved's musical and educational offerings are expanded by a wide array of serious yoga instruction, held in a dedicated hall with high-quality sound.
Says Rasenick: "Each year, we break the music during the day on Saturday and we focus on an important topic of conversation. The past two years, we've been discussing power and privilege, racism and inclusivity and sexual violence at festivals and the empowerment of a culture of consent. This year, we'll be asking ourselves, "what are we willing to do" to confront injustice in the world. We truly hope that everyone at the festival will attend this brief, potent and empowering talk and ritual. Resources and training in bystander intervention will be available throughout the weekend."
Additional workshop topics will include Yoga & Movement, People, Plants & The Planet, Music Culture, as well as Art and Youth-centered workshops via its largest family presenter team to date.
"We want the festival to be celebratory, a place for inspiring artistry, for unbridled joy and an opportunity to be absorbed in the beauty of creative inspiration… We want it to prove that another world is possible," notes Rasenick. "We also want the community to be willing to ask difficult questions, to confront the issues we face once the party is over. Together, we feel we can shift the conversation and bring the spirit that animates Beloved to our everyday lives."
For full lineup and tickets, go to https://belovedfestival.com/.
About Beloved Festival:
Beloved is a 4-day camping, art, and music festival on the Oregon Coast. The event intends to present sacred music to help eradicate the illusion of separation from each other, from the earth and from The Beloved. The greatest aspiration of this festival is to engage the hearts and minds of those present in the finding of The Beloved in each other; and furthering our ability to cooperate to make that appreciation tangible on earth. Its goal is to dissolve the boundaries that isolate us through music, dance and play.