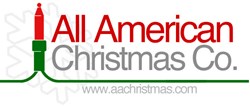 LED Icicle Lights Become a Staple for the Holiday Season Providing Families with the Perfect Outdoor Christmas Trimmings
Sparta, TN (PRWEB) November 12, 2013
Christmas is the most joyful time of the year. Families come together to unite and bring about a celebratory revelry. The clock is ticking and the time has come to start preparing for Christmas decorations. LED lights are more than just standard decorations for the exterior or interior of a home, they are illustrious bulbs that light up a home and highlight the Christmas spirit. Variety and incredible attention to detail are available to holiday lovers searching for something extra special. AA Christmas is now offering a huge selection of LED lights online.
Icicle lights have become one of the most popular sellers among LED lights. A Christmas classic, they are commonly found adorning homes across the United States. These lights come in a variety of styles, bulb counts, and colors. Icicle lights allow any family to have a warm and welcoming traditional home with added flare. At night homes are illuminated with icicle lights that look like snow has fallen on the home, leaving any house with a warm Christmas feeling. Twinkling with Christmas cheer, the icicle style is sure to brighten any home.
Mini lights and craft lights are also available for indoor and outdoor use. Craft lights are perfect for any small lighting project. These unique lights feature only one plug and can be placed on jars, lighting glass blocks and much more. Mini Lights are also some of the highest quality light strings available. With a wide variety of twinkle mini lights, chasing mini lights, and curtain lights, there are endless options for individuals to choose from for inside or outside of the home.
All lights can be found online for any individual searching for high quality Christmas lights that are easily installed. DIY Christmas Lights bring families together each and every season.
For more information log on to: AAChristmas.com.