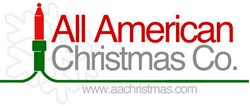 Christmas Cheer Shines Bright with LED Christmas Lights Online Illuminating Neighborhoods Nationwide
Sparta, TN (PRWEB) November 18, 2013
Christmas is a season that is all about family and friends coming together. It is about keeping traditions alive and making memories to last a lifetime. Each season, Christmas lights are always the first to mark the return of the holiday season. This year there is an endless amount of options on the market for any DIY Christmas lighting project. An increasingly popular option are LED Christmas lights.
AA Christmas is now offering LED Christmas lights online. LED Christmas Lights come in a wide variety of colors and styles. A classic Christmas style are LED icicle lights. For people who live in warm or cold climates, LED icicle lights bring the snow and ice to a home to make it feel like the Christmas season.
LED light bulbs have become a family favorite since they come in a wide variety of styles, sizes, and colors. LED Christmas lights and icicle light bulbs use 80% less power compared to incandescent lights, making them more energy efficient to keep costs down. Most bulbs are made of plastic so they will not break and they do not generate heat. LED icicle lights or standard Christmas lights can be used indoors and outdoors and the color does not fade.
Other timeless and popular options include mini lights and craft lights which are also available for indoor and outdoor use. Craft lights are perfect for any small lighting project. These unique lights feature only one plug and can be used to brighten smaller sized projects. These are perfect for table decorations at any upcoming holiday party. Mini Lights are also some of the highest quality light strings available. With endless options of twinkle mini lights, chasing mini lights, and curtain lights, there are many choices for individuals to choose from.
These lights and many more can be found online for any individual searching for high quality Christmas lights that are easily installed.
For more information log on to: AAChristmas.com.