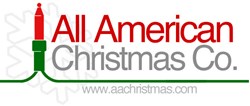 All American Christmas Co. is Now Offering the Best in Christmas Lights Online for Indoor and Outdoor Including LED Christmas Lights, Mini Lights, and Light Strings Perfect for Large and Small DIY Projects
Sparta, TN (PRWEB) November 26, 2013
As the first of December approaches families nationwide have started to plan for the holiday season. When to get the Christmas tree, when to decorate the inside of the home, and when to put out lighting displays and Christmas lights on the exterior of the home are all decisions that people are making right now. For any family or individual who has already started to decorate for the season but are looking for last minute touches to make any home really pop -- AA Christmas Company has every person covered. And AA Christmas Company is now offering their giant selection of LED Christmas lights online.
For any individual who is searching for Christmas supplies to finish any existing planned projects or to find the best Christmas lights on the market to illuminate their home and neighborhood, AA Christmas Co. has a wide variety of lights to fit every unique individual's needs. With years of experience and a wide range of products the company is second to none. Popular items to add sparkle to any home include LED Christmas Light Strings and Mini Christmas Lights. LED Christmas Light strings are a great choice for any family who is looking to have the best in Christmas lights and keep costs down. LED Lights reduce energy by 90% saving a family hundreds on lighting bills. They also have an 80,000 hour bulb life and most are made of plastic ensuring that they will not break. The LED Christmas Light strings and Mini Christmas Lights are great for any project and adds extra vivacity all over the home. These lights are great to get the whole family involved in a fun holiday DIY project. For decorating crafts with the light sets the 10, 15 or 20 mini bulbs and LED lights are great for table arrangements and door wreaths.
In addition, the ever popular C7 and C9 Christmas Strings and the Retro fit C7 & C9 bulbs add Christmas cheer to any household. The lights evoke a classic Christmas feeling that lasts the entire season. Also available are C7 and C9 replacement bulbs for any person who already has the light strings and now needs the replacement lights.
Products are going fast as Christmas quickly approaches. Extremely limited are yard lighting displays with Santa and his elves, the gingerbread kids, and many more. Lighting displays on the front yard are some of the most joyful lights of the season. Conjuring memories of childhood, excitement, and Christmas merriment – they are the perfect addition to any home. The company also offers LED scented candles with realistic looking flames that move. These are wonderful for families with small children, pets, or anyone who loves the look and feel of a candle without any of the risk.
All American Christmas Co. offers premium Christmas lighting products at some of the most competitive prices online. The company intends on providing the best long-term value on all "Christmas Lights" that can be used for multiple occasions. With a long list of satisfied customers featured on their site and a mission statement that reads, "Our pledge is to offer you professional and personal assistance on every call. We look at every order one at a time, we run all the orders by hand, and take the time to make sure you get exactly what you need. You aren't just a customer on paper, you have a plan, a project and we want to make sure you get exactly what you need from start to finish." There's no better option this holiday season for any and all Christmas lighting needs.
For more information log on to: http://www.AAChristmas.com.