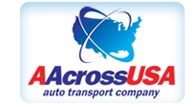 AAcross USA auto transportation service is now shipping automobiles anywhere in the USA including Hawaii.
(PRWEB) November 27, 2013
America has been a car-loving country ever since Henry Ford starting sending Model T's down the assembly line. Millions of Americans spend time everyday in their cars to the point of a person's car can become like a second home. And that's why it is vital for so many drivers to take care of their car like they would their home. However, when it comes time to relocate, whether for a new job or going off to college or retiring, many people want to do anything they can to protect their automobiles from the wear and tear of the long haul. Enter AAcross USA, a family-owned car transport company that has grown a big reputation for great service and care for their customers looking to ship their car. AAcross USA is now shipping vehicles to any location in the USA including Hawaii.
Transporting cars through an auto transport service isn't a new idea. Car dealerships have been doing it for a long time for one, but lots of companies, government agencies and individuals are also taking advantage of the benefits of auto shipping. AAcross USA has grown over the past two decades from a small car transport company with a few accounts to a trusted brand in the business, with much of the growth due directly to repeat satisfied customers and word of mouth, the true mark of a company that is serious about delivering top service. Whether you need auto transport in California to New York or Maine to Hawaii, AAcross USA works with pre-screened carriers all across the country. They are licensed, bonded and insured with an A+ Better Business Bureau rating which will ease the mind of customers concerned about their beloved cars. But more directly, it is their service and business practices that attract individuals and businesses in need of transporting cars. AAcross USA has live consultants to speak to any time during business hours instead of a computerized phone system. They can provide customers with free auto transport quotes, or interested car owners can likewise get a free quote on their website: aacrossusa.com.
And unlike many companies these days, AAcross USA will give clients a full refund if they can not transport a vehicle or if the client cancels for any reason before the auto transport is scheduled. Their high standards of service and professional integrity comes across most convincingly with the many testimonials on the website.
Securing car transport services is an important part of moving, not only for the convenience (because isn't moving difficult enough without worrying about the car?), but also for the longevity and maintenance of the car. AAcross USA uses both open and enclosed carriers for auto shipping. Anyone interested in more information about the services or free quotes can check out the website or call directly at 800-243-0066. Now if only the rest of relocating could be this convenient!