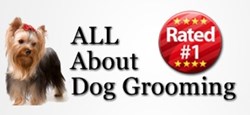 Learn to Groom Teaches Pet Lovers How to Start a Dog Grooming Business Making Shaggy Dogs Beautiful. Full details are available online at http://www.learntogroom.com.
Jacksonville, FL (PRWEB) November 04, 2013
Learn to Groom is now offering $50 discounts on their DVD Dog Grooming training course. People who love dogs are plentiful, because just about everyone has a soft spot in his heart for those furry four-legged creatures. Many people who enjoy nothing better than spending time with dogs might want to think about finding a way to earn a living from the activity that they love the most. As the saying goes, do what you love and the money will follow.
There are a number of different ways that dog lovers can spend more time with canines and make it part of their professional life. They can volunteer at a pet shelter and spend time helping to care for pets without owner. They can get involved in the process of finding homes for dogs that need owners, and perhaps they can also learn more about the care and handling of dogs.
One might want to learn to groom dogs, because it is a consistently in-demand skill and can be used in a number of settings. Whether the grooming student hopes to use his skills at the animal shelter where she volunteers, or in another type of environment, dog grooming can be extremely fulfilling work.
Finding a dog groomer class can be a hassle, however, especially for those who live a long distance away from any place where that kind of training is available. Once a training program is located, it could require a good deal of time commuting back and forth from grooming classes, which uses up a lot of time and will likely require burning a lot of gas, as well.
One way to avoid the hassle of commuting is to contact Learn to Groom, a firm that teaches pet lovers, via distance training, to groom a large variety of dog breeds through it's DVDs, course materials and personal consultation services. All at a shockingly low cost.
With some solid skills in hand, one might like to start a dog grooming business, which could be not only extremely fulfilling but profitable, as well. There's no limit to how large a business could grow once a clientele is established. Learn To Groom also provides business set up instructions at realistic costs in three different business models.
It's easy to get started with Learn to Groom. Simply go to http://www.learntogroom.com and learn about the educational opportunities available in the exciting field of dog grooming.