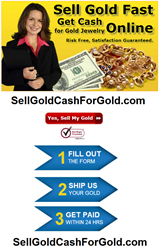 $2,950 in three days from some old jewelry I found in my jewelry box!
Orlando, FL (PRWEB) August 29, 2013
"NowGold.com buys rings, bracelets, necklaces, chains, charms, earrings, and other unwanted gold jewelry. The new 110% price match guarantee provides people with the ability to get more money for their unwanted jewelry than what their local pawn shop will offer. With the easy print off insured shipping label, people can handle their unwanted gold selling in the security and privacy of their home," a NowGold customer representative explains. "This is one of NowGold.com's most used features," the customer representative continues to explain, "because when people are in need of money they usually want the easiest, quickest way that will provide them with the most money. NowGold.com has been consistently providing this service for their clients since 1988. NowGold has made their gold buying service so secure and private, the postman doesn't even know."
"I Was Desperate to Replace My Leaky Roof, so I rounded up some old and unwanted gold from my jewelry box which NowGold turned into $2950 in just three days. No more leaky roof!" Sandy Spaziano from St. Petersburg, Florida wrote, which is posted on the NowGold.com website testimonial page along with many other testimonials from satisfied customers.
To find out more about what NowGold buys, their Instant Pay program, the 110% price match guarantee, or to get more information about selling unwanted gold, just visit the NowGold.com website, or call NowGold on their tollfree number listed below.
About NowGold
NowGold is located in Orlando, FL, and has been buying and selling unwanted and scrap gold since 1988. Lee Heavener is the CEO of NowGold, and currently manages the company helping clients' nationwide sell their unwanted and scrap gold. The company motto is risk-free, satisfaction guaranteed - safe, secure and insured. NowGold.com is a licensed and insured Precious Metals Dealer, plus they hold a Better Business Bureau A+ rating and are registered as a trusted company with VeriSign. They are rated #1 with the consumer advocate site http://OnlineGoldScam.com.
For more information, visit NowGold at
http://www.sellgoldcashforgold.com
http://www.Facebook.com/NowGold
1-800-584-SELL
1-800-584-7355