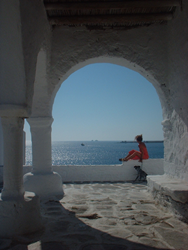 We live with our archetypes... but we can live in them - Poul Anderson
Sydney Australia (PRWEB) March 19, 2015
Successful personal development coach Evelyn Olivares launches her new website aimed at empowering others. Renowned for her dedication to self-improvement, this new website provides a uniquely visual aid to self-discovery.
Focusing on The Enneagram Coaching Program and The Hero's Journey, it offers self-study programs, telephone coaching or in-person development. Visitors to the site will discover a highly visual array of videos, articles and study guides as they discover their own unique personality type from nine distinctive types within The Enneagram. Olivares is quick to point out that everyone is born with a dominant personality type which impacts life, actions and perceptions and each type has unique assets and limitations.
Olivares says, "We enter the world filled with trust, confidence and shine bright with vibrant energy. Over time, life dishes up many challenges and in the face of adversity we can find ourselves feeling stuck in inertia, exhausted by overdoing leaving us feeling out of balance and depleted of all positive energy."
Olivares is committed to the benefits of The Enneagram and confident that it can help others to identify unique areas of imbalance, to improve clarity of vision and increase personal power. Olivares reveals that comprehension enables individuals to adopt and amplify positive traits, streamlining areas which limit or hinder success, valuable for exceeding goals.
"Understanding the journey can be the critical difference in your success, the key to achieving your life's goals, and result in whether you enjoy this amazing journey or not." Olivares says.
The training and coaching programs open the doors to the Art & Architecture of Archetypes of The Enneagram and these are designed to enable all to discover their unique Hero's Journey and deepest Mythical identity.Regular study of The Enneagram increases both personal and professional skills leading to reduced stress, higher focus and clarity leading to intelligent choices rather than irregular or emotion based assumptions. The knowledge can be used to deepen relationships or to increase confidence and success at career level.
Evelyn Olivares is also a qualified Workplace Trainer and Assessor, Life Coach and Neuro Linguistic Programming Master Trainer and Archetypal coach. She provides coaching, seminars and workshop training sessions throughout Australia, in Chile and in Paris, France.
For further interview or information:
Contact: Evelyn Olivares
Phone: +612418403227
E-mail: evelyniolivares(at)gmail(dot)com
skype - evelyn-olivares
Website: http://evelynolivares.com.au/