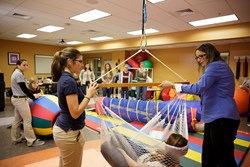 Students and parents value a profession that works with diverse populations and is consistently ranked as a career with future growth potential.
Reading, PA (PRWEB) November 05, 2013
With an already strong five-year Master of Science in Occupational Therapy (MSOT) degree program, Alvernia University will now offer a shorter, entry-level master's in occupational therapy program for students already possessing a bachelor's degree.
According to U.S. News and World Report, "The Bureau of Labor Statistics projects occupational therapist employment growth of 33.5 percent between 2010 and 2020, adding 36,400 more professionals to the 108,800 already-existing jobs in this field."
"Whether it is the increasing number of baby boomers who want to live safely at home, veterans retuning from deployment who want to rejoin their communities, or special needs children who want learn in regular classrooms, there will always be a need for the profession of occupational therapy — where the focus is improving health and quality of life," explains Dr. Neil Penny, chair and associate professor of occupational therapy at Alvernia.
Because all professional occupational therapists (OTRs) must earn graduate degrees to enter the profession, Alvernia has long offered a program for first-year students to declare OT as their major, and earn an MSOT degree in five years.
Now with the addition of the entry-level MSOT program, students who discover their interest in occupational therapy later — after earning an undergraduate degree in a different discipline — aren't left behind.
"We see a strong demand from students who either did not learn about OT until they were completing their undergraduate degrees and looking for a future career, or were unable to transfer into an already full five-year program," says Penny. "Students and parents value a profession that works with diverse populations and is consistently ranked as a career with future growth potential."
Alvernia's entry-level Master of Science in Occupational Therapy degree program is accredited by the Accreditation Council for Occupational Therapy Education (ACOTE) of the American Occupational Therapy Association (AOTA).
ALVERNIA is a thriving university that empowers students through real-world learning to discover their passion for life, while providing the education to turn what they love into lifetimes of career success and personal fulfillment, helping them make the world a better place. Situated on a scenic 121-acre suburban campus in historic Berks County, Pa., the university of more than 3,000 students is conveniently located near Philadelphia (60 miles) and within an easy drive of New York, Baltimore and Washington, D.C. With a College of Arts and Sciences and College of Professional Studies, Alvernia today offers more than 50 undergraduate majors and minors and a range of graduate programs at the master's and doctoral levels through its School of Graduate and Adult Education. Satellite sites are located in Philadelphia and Schuylkill County.