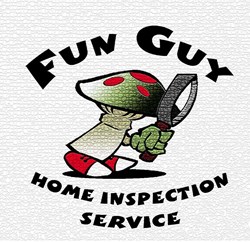 Fun Guy Inspections Helping Los Angeles Area Residents Literally Break the Mold that Comes with Wet Winter Season By Using Infared Thermography to Help Detect Mold.
Santa Clarita, CA (PRWEB) December 16, 2013
With winter just around the corner, southern California property owners are preparing for the coming rains. While flooding is always a concern during heavy rain, especially in homes with basements or in flood zones, another major problem that comes with the southern California rainy season is mold. According to the World Health Organization, 50% of homes in the United States have mold. Besides structural damage and rot that can occur, mold also poses a severe health risk for many people, particularly those with pre-existing breathing issues. That's why this time of year sees a marked increase in homeowners and property managers taking proactive steps by bringing in professionals to do mold inspection and mold removal services. One of the best in the business is Fun Guy Inspection & Consulting, a commercial and residential mold inspection company specializing in mold detection and environmental consulting in the Los Angeles area. Fun Guy Inspections is now using Infrared Thermography to get the most accurate results when testing for mold.
Fun Guy Inspections started out over six years ago and has since been inspecting and testing for asbestos, lead, mold and related water damage, executing mold remediation testing and removal inspections throughout the area. The company treats residential as well as commercial and industrial property from Ventura to Palmdale and all stops in between. For years now, people have known about the damage being done to air quality in the Los Angeles area as in many urban areas throughout the world, and cities, states and nations have taken steps to fight to improve air quality. It makes sense that more and more people are likewise being more mindful of air quality within their homes or places of work. That's where professionals like Fun Guy Inspections enter the picture. Fun Guy is a member of the American Indoor Air Quality Association and is also qualified by the California Department of Public Health to perform Lead Project Monitoring for any commercial and residential structures requiring lead abatement. Qualifications like this make Fun Guy one of the most dependable resources for mold inspection and mold removal in Los Angeles. That's why many residents and businesses alike are taking advantage of preliminary mold inspections before winter rains hit the region. Their experts can provide a visual inspection to evaluate the presence of any black mold/fungi, and assess water damage and mold growth, explaining and preparing clients for the mold removal process.
Mold is a serious health issue that can grow in the home unbeknownst to residents. Headaches, wheezing, respiratory ailments, sore throat, coughing, skin irritation and many more symptoms can be caused by exposure to mold. Whether a structure has been flooded in the past or simply has never been inspected for mold, residents and companies from Palmdale to Santa Clarita/Valencia, down Los Angeles and beyond are taking the steps to protect the air inside their homes and buildings. Clients can call Fun Guy Inspections for more information about mold testing and removal at (888)399-3994 or can send an email to request an appointment from the website http://www.funguyinspections.com.