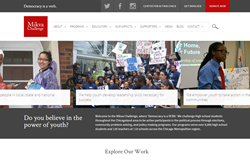 They worked to really understand our mission and message...They built a fun, energetic site that also manages to present a lot of content in an easily understood format
Chicago, IL (PRWEB) December 04, 2014
Mikva Challenge is a Chicago based non-partisan, non-profit organization that works to change the status quo by developing youth to be more informed, empowered, and active citizens and leaders in their community. Through high quality programming in under-resourced schools and communities and actively engaging youth to take part in the democratic process, Mikva Challenges strives to eliminate the civic achievement gap.
Mikva Challenge was founded in 1997 by former White House Counsel, Judge, U.S. Congressman and Presidential Medal of Freedom recipient, Abner Mikva and his wife Zoe, a teacher and lifelong education activist. The organization has grown to support democracy education programs that serve over 6,000 high school students, 130 teachers and 110 schools across the metro Chicago region.
With a growing reach and a wealth of information to disperse, Mikva Challenge turned to Idea Marketing Group for help in redesigning a website that would work with them and their needs. The new website showcases the organization's best attributes and evokes action. The website provides resource areas for educators and students, easy access to program information as well as the clear and quantitative impact that Mikva Challenge has on the community. Supporters can easily donate and see upcoming events as well.
The mobile responsive website was custom designed and developed in Wordpress, allowing staff to easily update pages and add new content. Idea set up the donation processing to integrate with Mikva's existing CRM, DonorPro. The eCommerce portion of the site integrates to process payment automatically and the site was optimized for search.
"Working with Darren and the team at Idea Marketing Group has been fantastic," said Mikva's Development Director, Kelly Rolf. "They worked to really understand our mission and message, and they helped us incorporate many website best practices that our previous site was sorely lacking. They built a fun, energetic site that also manages to present a lot of content in an easily understood format."
Idea Marketing Group is a web design and marketing firm located near Chicago, IL. Since 2009, Idea strives to provide creative, unique and cutting-edge websites along with individualized goal-driven marketing. Clients choose Idea Marketing for award winning web design and marketing services from an experienced and passionate web team that helps grow businesses and excel non-profit causes. To learn more about Mikva Challenge or Idea Marketing, visit http://www.ideamktg.com or call 312.834.7001.